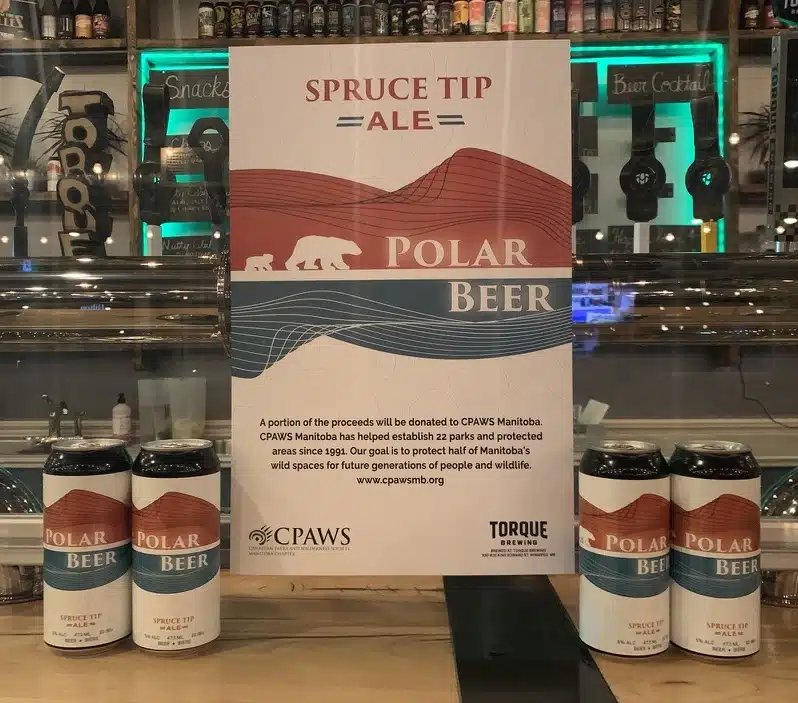 By CPAWS Manitoba
Dozens of committed conservationists raised a glass to support efforts to protect Western Hudson Bay at a sold-out fundraiser celebrating the launch of Polar Beer, a new spruce tip ale created by CPAWS Manitoba and Torque Brewing.
"The energy in the room was so lively, and it was great to try a beer made with Manitoba ingredients and one that supports the conservation of Manitoba's lands and waters," said CPAWS supporter Ali Junghans.
"The Manitoba trivia was really fun—my team didn't do super well, but we learned a lot—like Manitoba has 92 provincial parks and a caribou's hooves can spread out to the size of dinner plates," she added.
The beer launch capped off a fantastic year of connecting people to conservation through the CPAWS Manitoba Nature Club. More than 7,500 people participated in 222 webinars, contests, hikes, paddle nights and workshops at schools, daycares and Assiniboine Forest in 2021.
It was the first time that CPAWS Manitoba supporters had gathered indoors since the pandemic, and the mood was festive and cheerful.
"What a wonderful event," said Wes Peters, Acting President of the CPAWS Manitoba board. "The sold-out crowd of around 80 people obviously enjoyed themselves. It wasn't only the tangy yet appealing taste of our ale — the trivia game followed by the silent auction and 50/50 draw was right in tune with everyone's desire to have some social normalcy."
Polar Beer, a spruce tip ale created by CPAWS Manitoba and Torque Brewing, highlights the need to establish a National Marine Conservation Area in Western Hudson Bay.
Western Hudson Bay is home to around 800 polar bears, one of the largest concentrations found anywhere in the world.
Maintaining the health of the marine environment is critical to supporting polar bears already stressed by climate change. Establishing a National Marine Conservation Area in Western Hudson Bay would minimize the environmental impacts of shipping and other commercial activities.
You can show your support for this campaign by telling the prime minister it is time to get moving on the Western Hudson Bay National Marine Conservation Area. Click here to use our letter-writing tool. You can add your own comments to the template or simply sign your name.
Polar Beer Launch
Polar Beer became available to the public after the launch event on December 2, 2021. It was a fun-filled evening with live music by Brennan Hakes, games, prizes, and the chance to spend time with fellow conservationists.
One game had people naming landmarks in Manitoba based on photographs.
In the trivia game, attendees answered nature-themed questions, such as how many provincial parks are in Manitoba (92), what the provincial owl is of Manitoba (great grey owl), and what the goal is of our Defend Manitoba Parks campaign (to protect parks from the privatization of park services by the provincial government).
There was even an animal riddle:
"I am an ever-present symbol of life in Canada. I am an important food source and a significant thread in the cultural fabric of many Indigenous communities. I am a strong swimmer and will take to the water to evade predators, seek relief from biting insects, or simply reach other areas of habitat. My insatiable appetite is reflected in my name, which derives from an Algonquin word referencing my taste for twigs and bark. Less than 20,000 of us currently roam the woods of Manitoba….

What am I?"
Scroll to the bottom for the answer!
Polar Beer is a classic American pale ale brewed with foraged Manitoba spruce tips. Cascade and Simcoe hops lend notes of floral and citrus, while a lingering spruce character rounds out the flavour. It's a light, approachable beer brewed for both nature lovers and beer buffs.
You can try Polar Beer for yourself at Torque, and you can pick up some cans from Torque or liquor stores. A portion of the proceeds of Polar Beer will be donated to CPAWS Manitoba.
Connecting People to Nature
It was amazing to see everyone at our launch in person, connecting with old friends and meeting new ones. We can't wait to see you at another event! Subscribe to our events newsletter or visit our event listings page on our website to know what's coming up.
In talking with folks at the beer launch, a common theme in conversations was the importance of connecting people to nature, whether while outdoors like on hikes or at nature-themed events like the launch.
Willie Findlay said she has always been environmentally aware, and attending the launch event — where she learned about nature in Manitoba through the trivia game and connected with like-minded people — made that feeling of the importance of living an environmentally friendly lifestyle even stronger.
Willie and her husband, Dave, who have been involved with IISD's Experimental Lakes Area, said they also see the importance of getting their grandchildren involved with nature, like through camping, to help inspire the next generation of environmentalists.
"It was a great way to bring the community together through a collaboration of conservation and craft beer," added Kevin Kash, another guest at the event.
Thanks again to everyone who came out to the launch, and congrats to our trivia and raffle winners! We're also incredibly grateful to Jaime Manness of Hike Manitoba, Kal Barteski, Kevin Kash, and Torque for donating prizes. Your continued support means so much to us.
Animal riddle answer: A moose!