Ron Thiessen has been instrumental in establishing 23 parks and protected areas in Manitoba. That's nearly three million hectares of healthy lands and waters conserved for future generations.
Ron began his nearly 30-year career in conservation knocking on doors for Greenpeace. These face-to-face interactions taught Ron what it takes to get people interested in environmental issues and how to empower and motivate them to take action. Ron's leadership skills were swiftly recognized as he moved from leading teams in the Winnipeg office to helping Greenpeace offices across the country revitalize their campaigns.
---
Director of Communications and Public Programs
Mira Oberman was born and raised in Winnipeg, Manitoba where she developed a love of hiking, canoeing, skiing and stargazing in the boreal.
Mira has more than 20 years of experience in journalism and communications. A creative storyteller and strategic thinker, Mira began working with CPAWS Manitoba as a consultant in April 2018 and joined as staff in January 2019.
---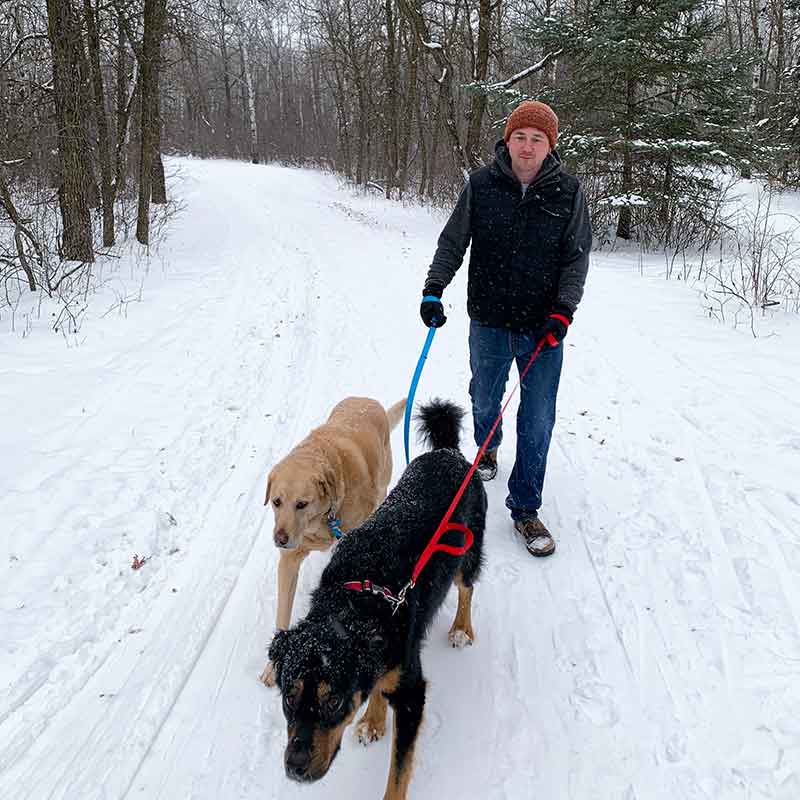 Operations Manager and Science Advisor
David Swan is a behavioural ecologist who joined CPAWS Manitoba because he is passionate about science-based conservation. He has a great love for animals and is dedicated to habitat preservation and animal welfare. David has many science-based interests; however, he is most interested in figuring out why animals behave the way they do.
Before joining CPAWS, David managed a non-profit veterans club and was instrumental in bringing the organization to the best financial situation it has ever been in. He also spent time teaching introductory biology at the University of Manitoba.
---
Outreach and Engagement Officer
Neil Bailey grew up in Gimli, Manitoba. His lifelong passion for nature and stewardship began collecting sticks and rocks on the shores of Lake Winnipeg. He has a keen eye for "lucky stones" and will always take you up on a stone-skipping challenge.
Neil received his science degree from the University of Manitoba, with a major in psychology, and studied community and regional planning at Dalhousie University in Halifax, Nova Scotia.
---
In her role as Environmental Educator, Avery Kash combines her love for education and nature. She brings a decade of experience working with children and youth aged 5 to 18 as both a classroom teacher and a camp director.
Prior to joining CPAWS, Avery worked as a high school science teacher where she passionately connected her students to the natural world as much as possible. She has a deep understanding of teaching pedagogy and curriculum plus a background in environmental science.
---
Communications and Events Coordinator, Ocean Program
Riley Chervinski is a writer and communications professional with a strong interest in tourism and sustainability. She is a graduate of the University of Winnipeg with a bachelor of arts in rhetoric and communications and Red River College's Creative Communications program where she majored in journalism.
Prior to joining CPAWS Manitoba, Riley worked in various travel media, hospitality and tourism marketing positions at organizations including The Forks and Tourism Winnipeg. Her writing has appeared in the Globe and Mail, Flare magazine, Narcity, CBC Manitoba and on many blogs.
---
Riley Martin is a media and communications professional with more than a decade of experience creating engaging and exciting content. He combines his professional experience with his passion for conserving wild places in his role as Brand Ambassador at CPAWS Manitoba.

Prior to joining CPAWS, Riley worked for local news organizations and shifted to the not-for-profit recycling industry before starting his own small company. Most recently, he has been working with clients to create effective content that achieves their goals.
---