---
"I love these webinars as they are both very educational as well as entertaining. You kind of brought me on a trip with you, a trip I could never afford to take. So thank you." ― Speaker Series event participant
Connecting Manitobans to Conservation
There's been no better excuse to spend time outdoors and experience these benefits than in the middle of a pandemic. The more positive experiences people have in nature, the more they will be inclined to spend time outdoors again.
This leads to a deep and meaningful connection to nature. Besides providing a safe outlet for people during the pandemic, spending time in nature is paramount in the face of climate change.
When people feel connected to nature, they want to protect it.
CPAWS Manitoba has been hosting online learning opportunities for Manitobans to help us connect to nature. Connect with your community, learn something new, and take what you've learned and give back to nature.
---
Join Us For Our Upcoming Events
Nature has been here for us during the pandemic. CPAWS Manitoba wants to maintain this positive connection to nature by providing a space for Manitobans to connect online from the safety of our homes and be inspired by nature in our backyards.
---
Online Learning Opportunities
---
---
February 26, 2021 | 12–1 p.m.
Have you ever scrolled past a photo online that took your breath away and wondered how someone took such a beautiful photo?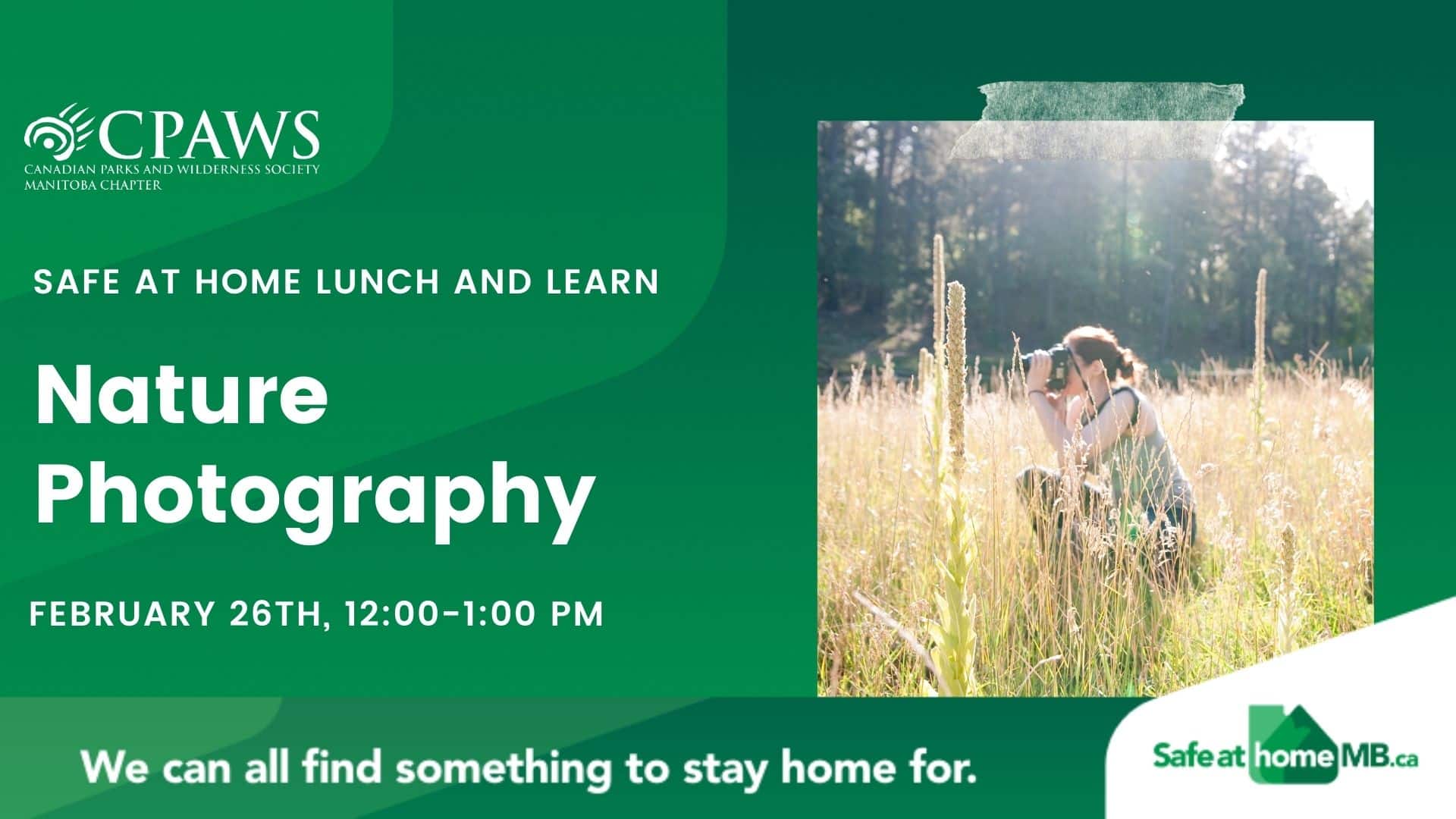 ---
---
March 5, 2021 | 12–1 p.m.
Do you know how to be a good neighbour to the wildlife we live amongst in cities and rural areas?
---
---
March 19, 2021 | 12–1 p.m.
Citizen Science For Nature
Did you know that anyone can be a scientist for nature, and that it's as easy as downloading an app on your smartphone?
---
---
March 26, 2021 | 12–1 p.m.
Did you know that exposing youth to the outdoors improves concentration, vitamin D levels, mental health and sleep?
---
---
---
---
---
February 5, 2021 | 12–1 p.m.
Do you want to explore Manitoba's wilderness, but are worried about what to do if you get lost?
---
---
February 12, 2021 | 12–1 p.m.
Let's inspire each other to embrace Manitoba's winter wonderland!
---
---
February 19, 2021 | 12–1 p.m.
Have you ever heard someone call out there's a "so-and-so bird" and wondered how they knew that?
---
View Videos and Read About Past Webinars
Sherman Kong from Maple Leaf Survival shares must-know wilderness survival information for Manitoba adventures.