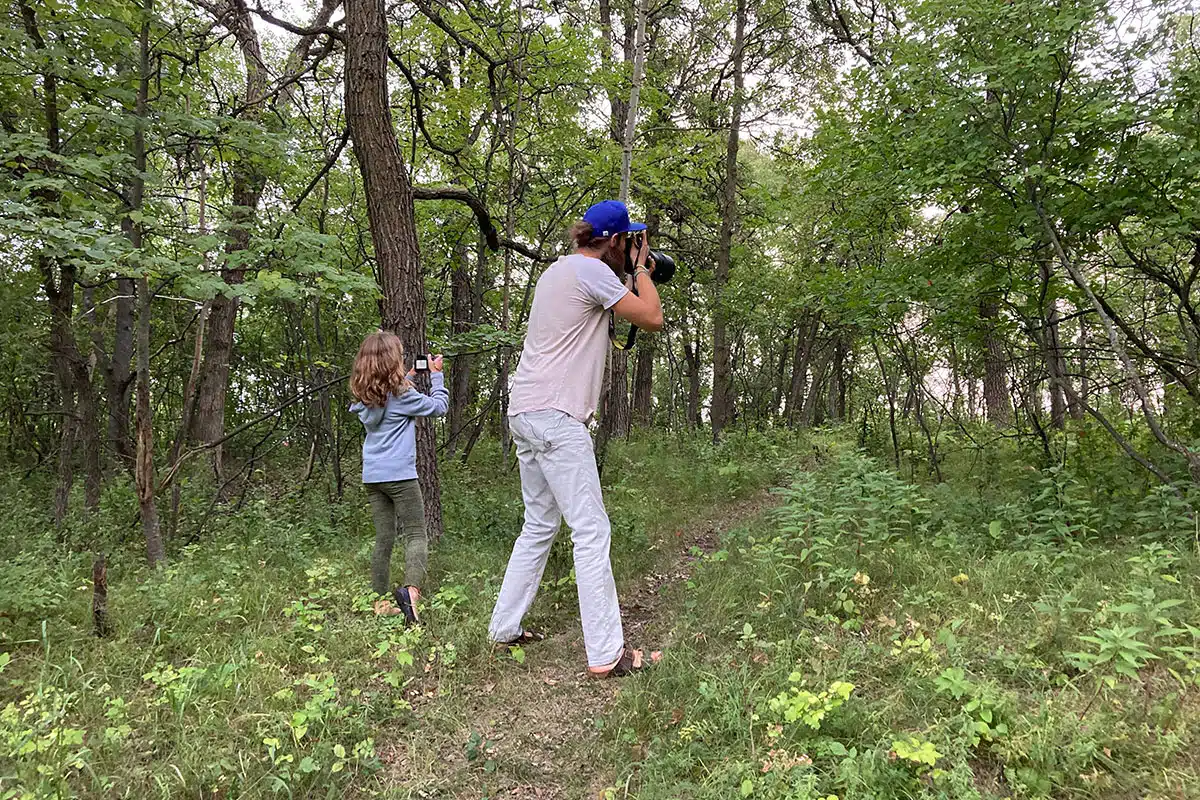 You've passed by hundreds of flowers this summer, admiring their vibrant colours and smells, but have you thought about how a bee may see the flower? What about an ant? Or a bird?
Photographer, educator, and musician Kevin Kash encourages you to look at nature from a new perspective and to capture nature scenes in a novel way.
Kevin shared his knowledge of photography during a CPAWS Manitoba Nature Club workshop at Assiniboine Park on August 19, 2021.
What Photographer Gear Do You Need?
You don't need fancy gear for nature photography! Today's mobile phones have great cameras and can take awesome photos.
If you're interested in a DSLR camera, there are a lot of starter options or you can look for used gear. Visit your local photography shop, like Photo Central, and talk with the staff to set you up with the camera that's best for you.
Best Nature Photography Tips
Consider composition rules, Kevin says. These are not so much rules but are really just guidelines. Simply view them as tools in your nature photography toolkit!
Rule of thirds: You can divide the frame into three equal parts, both vertically and horizontally. Place the subject on or near one of these four intersecting points.
Patterns: Look for interesting textures and repeating shapes.
Implied motion: While photos document still moments, you can still capture movement in the image. For example, a photo of waves crashing on shore with splashes of water in the air implies that the waves are in motion.
Depth: This ensures your images don't look flat and instead creates a 3D feel. Including an object of interest in the foreground, getting low to the ground, and framing your shots can all create depth.
Leading lines: These draw the eye to the object of interest by creating movement through the photo. Shadows, sidewalks, paths, and roads can be leading lines.
Another important tip, perhaps the most important, is don't forget to look around. It can be easy to focus only on the viewfinder, on the one subject you're trying to photograph. But you may miss out on interesting interactions happening around you, which is useful for photography and useful in terms of enjoying and connecting with nature!
While you can learn all you want about nature photography, nothing substitutes practice. So grab your camera, get out there, and start shooting.
During our workshop, participants went on a scavenger hunt around Assiniboine Park to practise their photography skills. The park did not disappoint — two deer and a wild turkey joined in on the fun!
Safety Measures for Nature Photographers
Getting "the shot" isn't important if you're putting yourself — or nature — at risk. Here are some safety tips to keep in mind:
Be honest with yourself about your physical fitness — for example, if you have bad knees, be mindful of how often you're crouching down to capture shots, and don't attempt to climb a mountain if you have no experience just to get one cool photo.

Some terrific photo opportunities may be found roadside close to your car.
Choose trails and routes that are within your physical limits.

Be respectful of wildlife — NEVER EVER feed wildlife to lure them closer.
Slow down — put your safety first.
Beware of poisonous plants and stinging insects.
Meet Kevin Kash
Kevin Kash is a local musician (Mister K), photographer, and high school electronics teacher. It was through travelling the diverse landscapes of Canada as a touring musician when Kevin began taking interest in photography as a way of telling stories from the places he travelled. From nature and wildlife to astrophotography, Kevin has a wide skill set and enjoys sharing his passion with others.
Follow Kevin on Instagram (@heyheymisterk), and visit his website to stay up to date on what he's up to. You can also purchase prints from his online store.
About the CPAWS Manitoba Nature Club
This workshop was part of the CPAWS Manitoba Nature Club, which has three main components: Outdoor Learning (workshops fall under this), Outdoor Fun, and Speaker Series.
Our Nature Club is designed to help Manitobans get outside, make new friends, and learn about the wonders of nature.
Click here for the full Nature Club event listings.
This program is possible thanks to the generous support of The Winnipeg Foundation and the Conservation Trust, a Manitoba Climate and Green Plan Initiative delivered by the Manitoba Habitat Heritage Corporation.