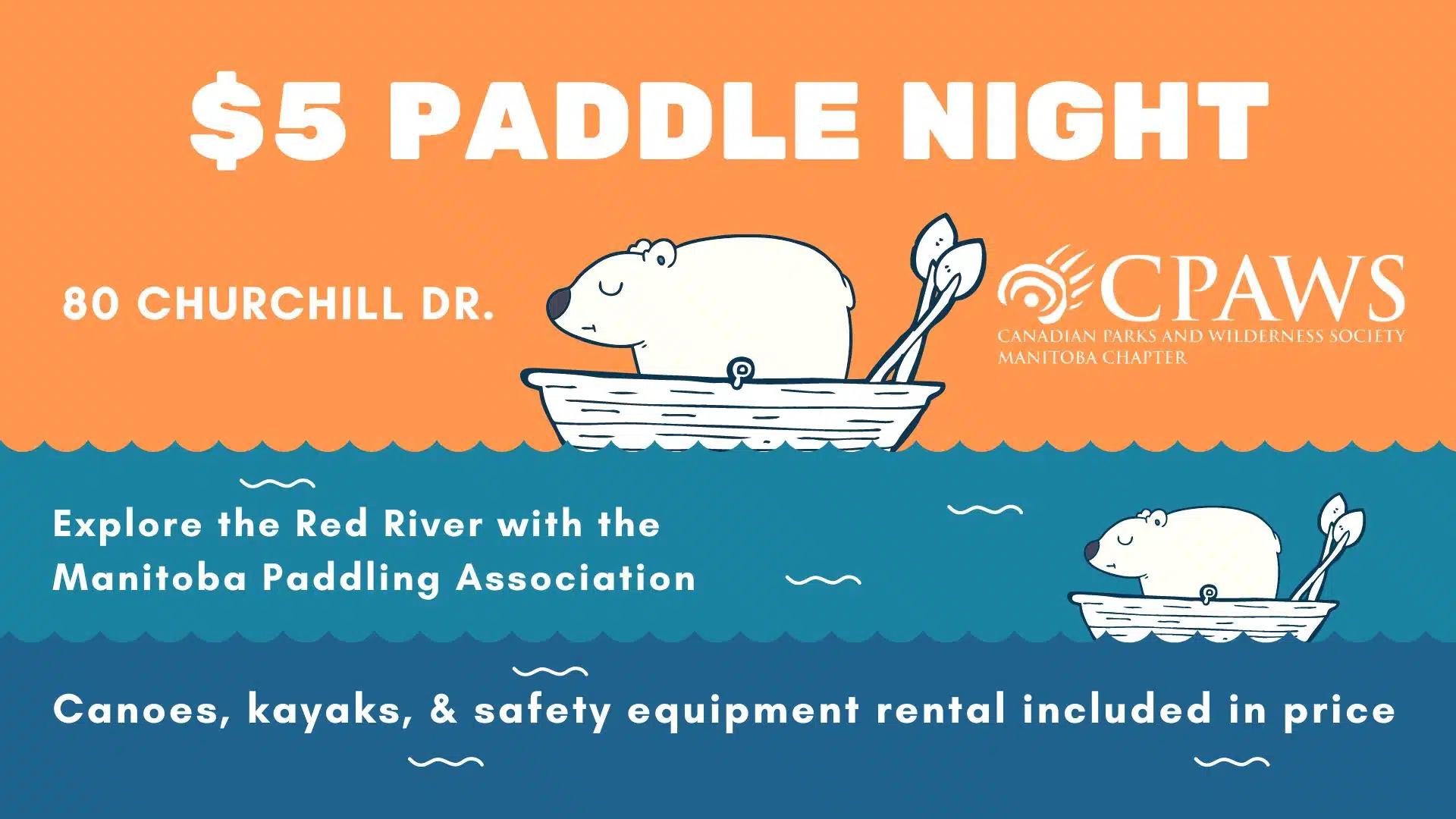 CPAWS Manitoba Paddle Night
About this event
For just $5 you can paddle the Red River and learn how to help #KeepManitobaWild.
No boat required! It's a great way to introduce yourself — or your kids — to paddling.
There will be canoes, kayaks, a dragon boat, paddleboards, and safety equipment, all supplied by the Manitoba Paddling Association at generously discounted rates: $5 per person and only $10 per family.
We've expanded our offering this season in the wake (pun intended) in response to overwhelming demand.
Tuesday, August 16
Tuesday, August 23
Tuesday, August 30
Be sure to register now – there are limited spaces available and every one of our previous paddle nights has sold out.
"I liked seeing the outside, the view, and the summer and having the kids get off screens and know that Canada is a very vast wilderness and not just metropolitan."
— Debbie de Guzma, at Paddle Night 2019
Check out how much fun past participants had in this video and blog.
WHEN AND WHERE TO MEET FOR PADDLE NIGHT
Look for the big green CPAWS tent outside the Manitoba Canoe and Kayak Centre at 80 Churchill Drive.
To accommodate more people we'll be opening up two paddling slots: 5-7 p.m. and 7-9 p.m.
Feel free to arrive at any point during your two-hour paddling slot, but we recommend giving yourself at least an hour to enjoy the water. Please be courteous so all participants have a chance to try out the different types of boats.
Cash and credit card payments will be taken on-site by Manitoba Paddling Association staff.
ABOUT THE CPAWS MANITOBA NATURE CLUB
CPAWS Manitoba's Nature Club is designed to help Manitobans get outside, make new friends, and learn about the wonders of nature.
We've developed a wide range of programming and activities to help Manitobans of all ages and abilities enjoy the health and wellness benefits of nature.
Find out more at our website — cpawsmb.org — and be sure to subscribe to our newsletter and follow us on Facebook, Instagram, and Twitter so you don't miss out on upcoming events.
CANCELLATION POLICY
All Manitoba Paddling Association programs are subject to cancellation due to unsafe water conditions. We will notify registered participants by e-mail as soon as we are notified of a cancellation.
COVID PROTOCOLS
All participants are expected to self-screen for COVID-19 prior to the event and to stay home if they are symptomatic or have risk factors such as exposure.
SAFETY PROTOCOLS
CPAWS Manitoba takes the safety of all program participants seriously.
All CPAWS Manitoba staff members have cleared a criminal record and vulnerable sector background check with the Winnipeg Police Department.
All CPAWS Manitoba staff members voluntarily disclose that they have been fully vaccinated against COVID-19. We adhere to all public health recommendations and guidelines.
CPAWS policy requires that at least one person leading programming that may involve children must be certified in first aid. This applies to staff or to volunteers.
–This programming was made possible thanks to the generous support of The Winnipeg Foundation and the Healthy Communities Initiative funded by the Government of Canada.–