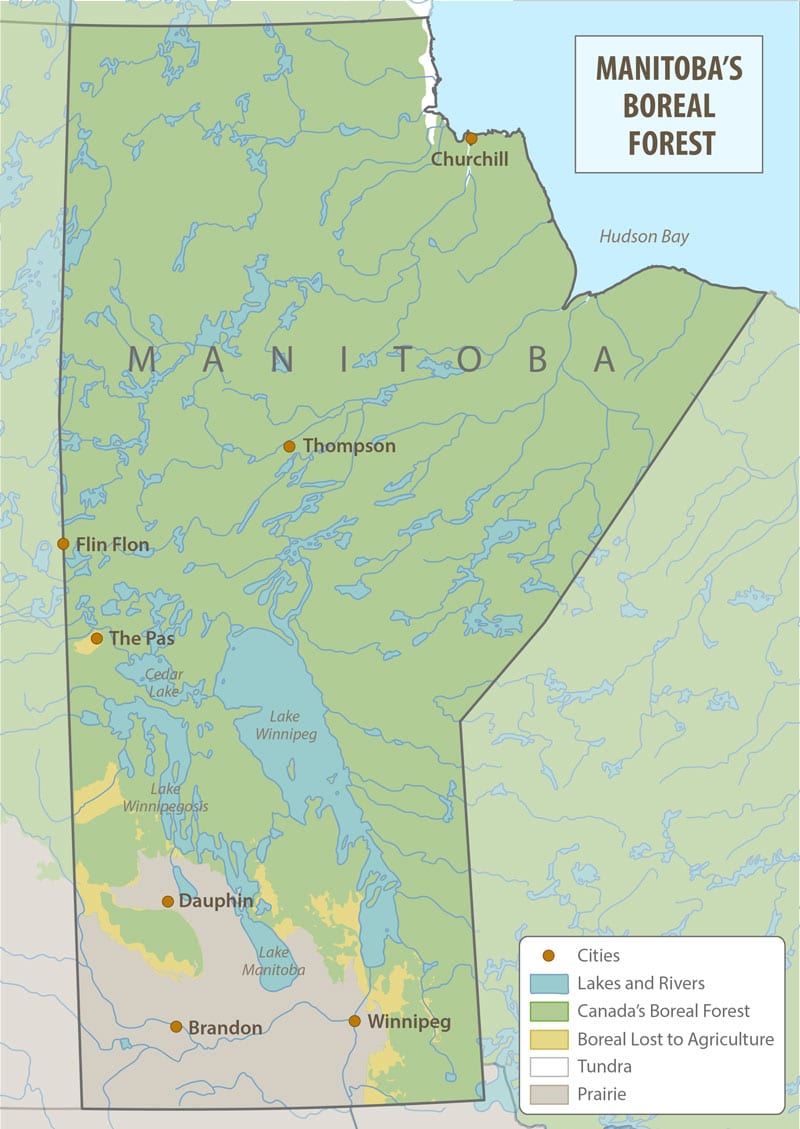 Access to community and culture. Hikes through the shade of the pine trees. Long afternoons on the dock at the cottage. This is why the health of the boreal forest impacts us all.
The boreal trees, water, and wildlife that span most of Manitoba are threatened by logging, mining, hydropower and oil and gas extraction.
What does this mean?
It means the livelihood of Indigenous communities that have lived in the boreal for thousands of years is in jeopardy. Our climate change safety net has larger and larger holes. Shrinking habitats and endangered species slowly slipping away.
How do we stop this?
A connection to nature and knowledge are powerful tools in the conservation of the boreal forest. Educators - we need YOUR help! Help us create awareness for Manitoba's largest ecosystem and reconnect a generation of youth that are more and more disengaged from nature.
75% of Manitoba is covered in boreal forest
We are part of the largest intact forest ecosystem remaining on the planet—the 1.2 billion acre (485,000 hectare) Canadian Boreal. It is a place of remarkable ecological and cultural diversity. Learn More
20% of the world's remaining closed canopy forests
This is significant given the rate at which deforestation is impacting most forests around the world.
$700 billion in ecological services annually in Canada
This includes carbon storage and sequestration, air and water filtration, ecotourism and more.
25% of the world's wetlands
The boreal forests have more surface water than any other continental-scale landscape. Learn More
19 billion tonnes of carbon stored in its soils, peat and forests
This is equivalent to nearly 100 years' worth of Canada's CO2 GHG emissions.
50% needs to be protected in order to maintain biodiversity and the benefits of clean air and water
Conservation areas must be large enough to accommodate range shifts due to climate change and natural fires. Learn More
49 Indigenous communities rely on the Boreal Forest
The Boreal Forest provides food, medicine, cultural tradition and economic prosperity.
150 kilometers of polar bear dens
Polar bear dens stretch the edge of the Manitoban boreal forest each fall. Learn More
100-300 million birds
This includes over 250 species, which all breed in the Manitoban boreal forest. Learn More
Contains one-third of the world's total peatlands
This peatland stores 147 billion tonnes of carbon.
Download our Boreal Forest fast fact sheet to provide students after lessons.