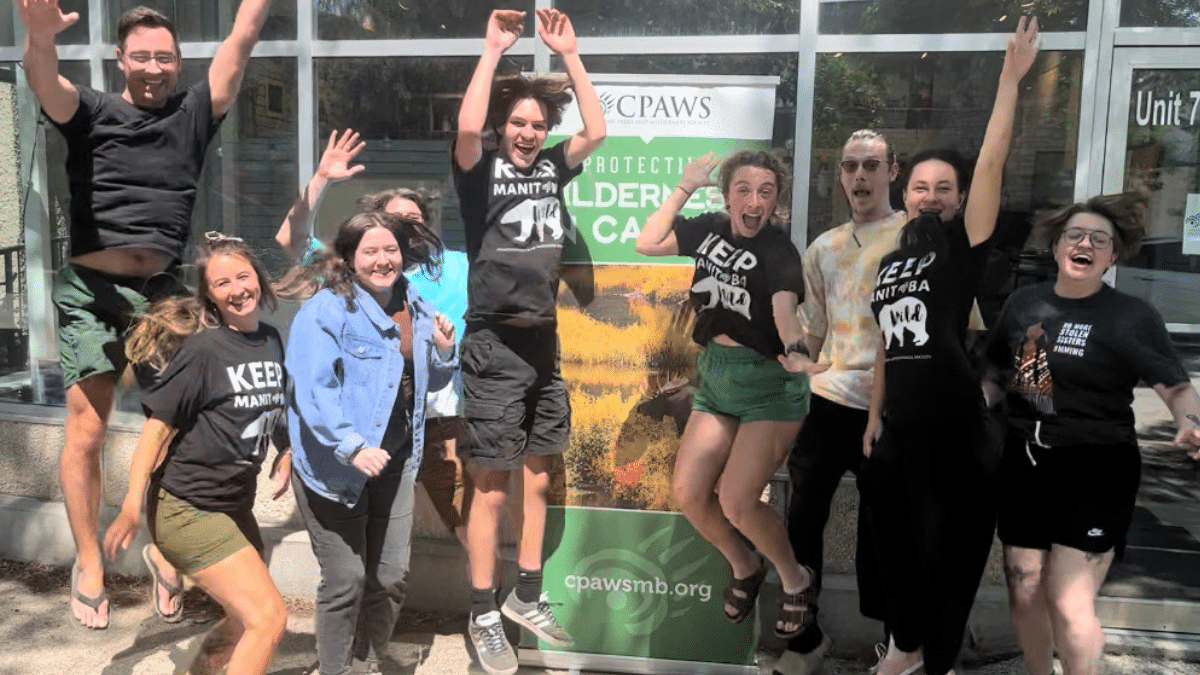 By Ron Thiessen
Executive Director, CPAWS Manitoba
The future is bright for nature in Manitoba after a new government was elected on October 3, 2023 with strong commitments to conservation.
That's thanks in part to nearly 4,500 Manitobans who joined CPAWS Manitoba's campaign by writing letters and signing postcards urging the leaders of all political parties to protect 30% of Manitoba by 2030.
"We are in a climate crisis. We are in a nature crisis, so this action is absolutely necessary and it is achievable," CPAWS Manitoba Executive Director Ron Thissen told the Winnipeg Free Press at a New Democratic Party media evet announcing the conservation commitments.

CPAWS Manitoba will be working hard to ensure that the new government take swift and decisive action on its promise to protect 30% of our province's lands and waters by 2030.

"It's going to take a lot of work to meet this ambitious target. So efforts need to begin immediately," Thiessen said.
"We are asking the government to establish a conservation task force that includes Indigenous leaders, conservation groups, and stakeholders by January 2024."
Take action for the future you want.
Tell Premier-designate Wab Kinew
we can't afford to wait another moment to make change
with our simple letter-writing tool.
We Need a Plan To Protect Nature
Nature provides every Manitoban with priceless services that are crucial to our health and underpin the stability of our economy.
Forests and wetlands clean the air we breathe and the water we drink, while protecting our farms and our homes from floods and droughts.
"Conserving 30% of Manitoba's lands and waters will help curb the impacts of climate change, protect wildlife, and advance reconciliation by supporting Indigenous stewardship," Thiessen added.
"We need to protect our lands and waters today to make sure that nature and people can thrive in the future."
We Can Get to 30% by 2030 if We Act Quickly
We can get to 30 per cent protected by 2030 if we act quickly and decisively. A lot of the work is already well underway.
There are at least eight Indigenous-led conservation initiatives in Manitoba which collectively aim to protect tens of thousands of square kilometres (up to 18% of Manitoba.) Securing these lands for nature, culture, and community-driven economic growth is a key piece in advancing reconciliation.
The previous NDP government identified Areas of Special Interest for conservation. There are 120 of these areas which have not yet been protected and which total nearly 74,000 square kilometres (11.4% of Manitoba).
Manitoba currently protects 71,561 sq. km. That's 11% of our province. We will get to 30% by 2030 if the government takes swift and decisive action.
That's why CPAWS Manitoba will help the government develop an actionable plan to achieve its conservation targets so Manitoba can continue to reap the many economic, health and social benefits of nature.
Tell Premier-designate Wab Kinew how much nature matters to you. Send your letter today.
– Thanks in part to the National Audubon Society for making this blog possible. CPAWS greatly appreciates its support of our boreal conservation efforts in Manitoba –