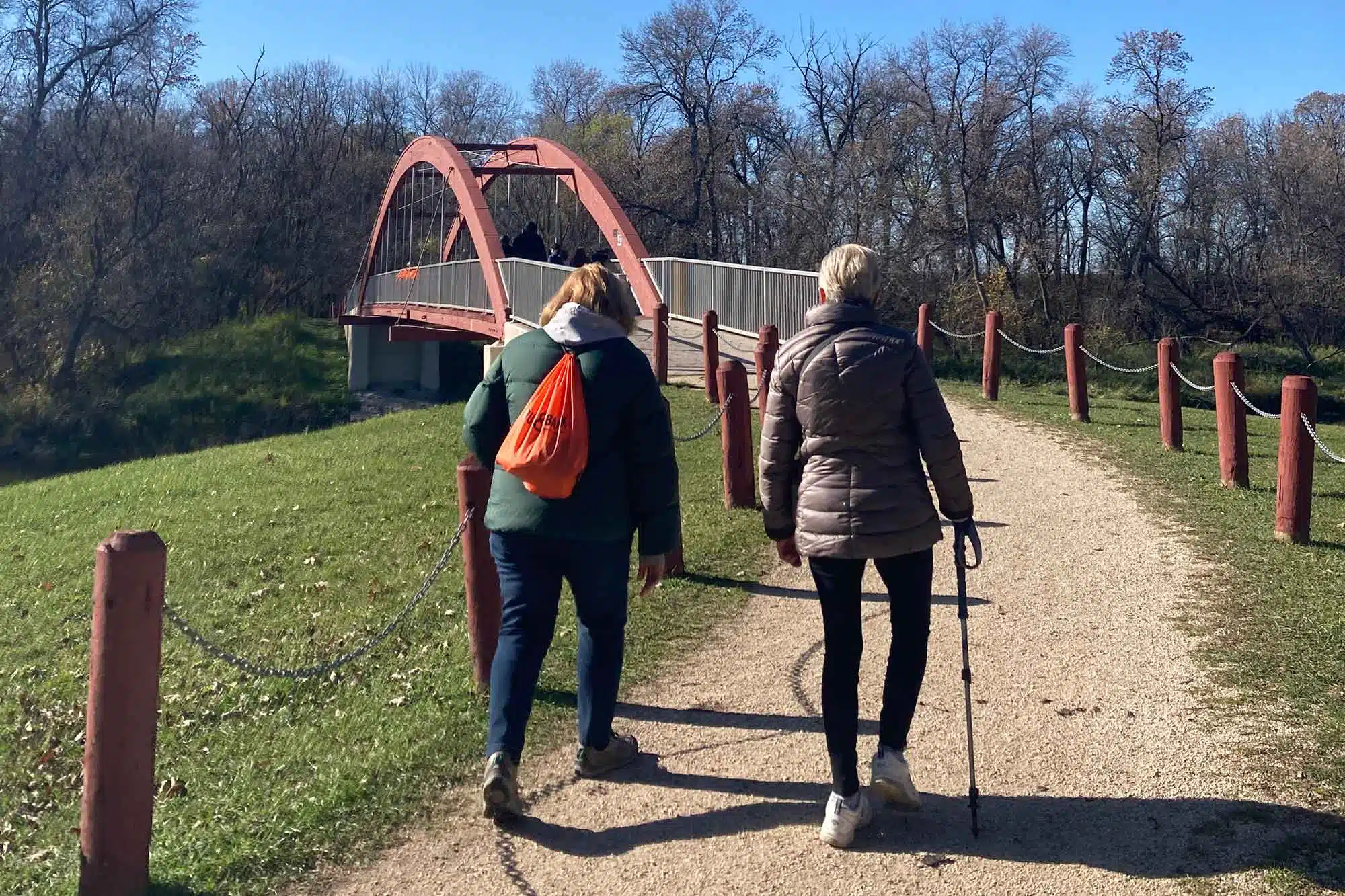 BY MIRA OBERMAN, COMMUNICATIONS AND ENGAGEMENT MANAGER, CPAWS MANITOBA
Only 15 minutes south of Winnipeg, La Barrière Park is a fantastic scenic escape not far from the city.
The expansive greenspace stretches across 84 acres with nature trails winding along the banks of the La Salle River. A newly installed beachfront boat launch makes it a great spot for kayaking and canoeing. The park is also a popular spot for cross-country skiing, disc golf, and cricket.
The La Barrière Park Loop is a wonderful way to explore the park. At nearly 3 km, it will take around 60 minutes to complete. It's a great hike for all skill levels — including beginners and families or anyone looking to enjoy a peaceful day outside the city.
How to Get There
Set your GPS for La Barrière Park. The parking lot is at the entrance of the park.
Or follow these directions:
Take the Trans-Canada Hwy/MB-100
Turn onto Waverley St
Continue on Waverley St until you reach the park (located at 4403 Waverley St)
Amenities
There are bathrooms at the park open year-round
Picnic shelters
What to Bring on Your Hike
Check the weather forecast and dress appropriately! Pack a hat if it's sunny, a raincoat if it's going to get wet, and a sweater or jacket if it's going to be windy or cold. Dress in layers so you can cool off or warm up as needed.
Bring at least two bottles of water: you can leave one in your vehicle on a cool day; you'll want both on the hike if it's hot.
Bug spray and sunscreen: you can apply in the parking lot so you don't need to carry them on the hike.
Comfortable, sturdy shoes are a must. You don't need hiking boots. But sneakers are definitely a better choice than flip flops.
Snacks are a great way to keep your energy up along the trail. Many trails don't have restaurants or stores nearby so you may also want to pack a picnic lunch.
Hand sanitizer (Most trails have outhouses, not modern toilets.)
Any medication you may need (like your asthma inhaler or an EpiPen)
A safety whistle and a basic first aid kit (not required, but a good idea any time you're in the wilderness)
Do you want to go on a group hike with like-minded people? Our free group hikes part of our Outdoor Fun programming are an easy way to get outside and explore Manitoba's beautiful provincial parks with other people.
About the CPAWS Manitoba Nature Club
CPAWS Manitoba's Nature Club is designed to help Manitobans get outside, make new friends and learn about the wonders of nature.
We've developed a wide range of programming and activities to help Manitobans of all ages and abilities enjoy the health and wellness benefits of nature.
Be sure to subscribe to our events newsletter and follow us on Facebook, Instagram, and Twitter so you don't miss out on upcoming events.
This program is possible thanks to the generous support of The Winnipeg Foundation and the Conservation Trust, a Manitoba Climate and Green Plan Initiative delivered by the Manitoba Habitat Heritage Corporation.