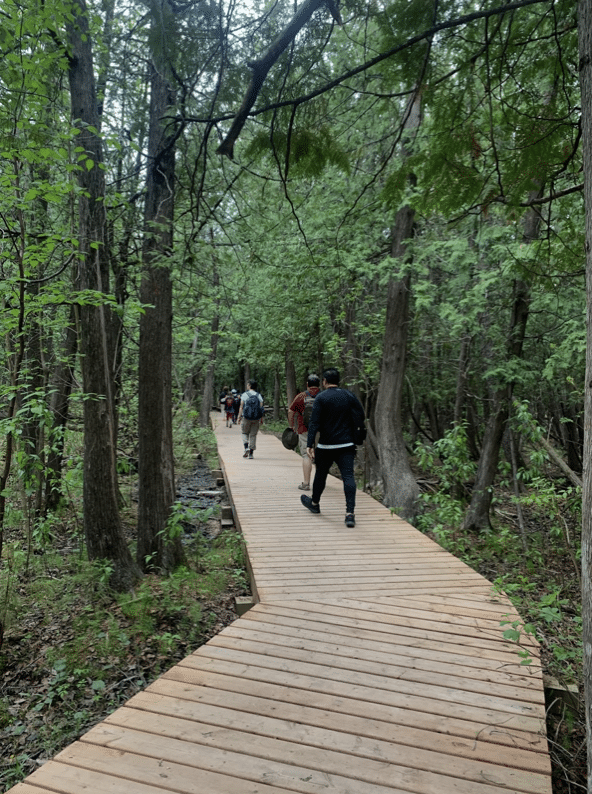 By Katie Borgfjord, Digital Marketing Coordinator
---
Looking for an easy and family-friendly hike close to Winnipeg? Cedar Bog is perfect! The Bird's Hill trail is a great hike for families, people who are new to hiking, and experienced outdoorsy types looking for a simple trip in the woods.
Sign up for our group hikes here.
The trail starts at a relatively high elevation, passes through an aspen forest, and descends about 25 m to a cool and damp cedar bog. A beautiful boardwalk was installed through the bog in 2021.
This 3.5-km loop trail will lead you through Manitoba's Aspen/Oak Parkland Natural Region. It will take approximately an hour to an hour and a half to complete, depending on how long you stop to take in the beautiful surroundings.
It's a fantastic trail in every season thanks to the boardwalk that keeps feet out of the muckiest spots.
In spring the bog is awash in wildflowers, including the Prairie crocus. In summer, the forest and bog help to keep hikers cool. The variety of trees also offers impressive vistas of fall foliage.
Cedar Bog is a popular hiking spot in winter when many of the park's trails are converted to ski trails and the snow is usually solid enough to avoid falling through the upper crust.
Remember to keep your eyes open! We saw many wildflowers and a garter snake during our group hike on May 27, 2023.
Hiking Tips and What to Bring (Warm Weather Edition):
Be sure to pack enough water and snacks.
Check the weather forecast and dress appropriately! Pack a hat if it's sunny, a raincoat if it's going to get wet, and a sweater or jacket if it's going to be windy or cold. Dress in layers so you can cool off or warm up as needed.
Comfortable, sturdy shoes are a must. You don't need hiking boots. But sneakers are definitely a better choice than flip flops.
Bring at least two bottles of water: you can leave one in your vehicle on a short hike; you'll want both on a long hike.
Snacks are a great way to keep your energy up along the trail.
Bug spray and sunscreen: you can apply in the parking lot so you don't need to carry them on the hike.
Hand sanitizer (Most trails have outhouses, not modern toilets.)
Any medication you may need (like antihistamines, your asthma inhaler, or an EpiPen)
A safety whistle, pocket flashlight, and a basic first-aid kit (not required, but a good idea any time you're in the wilderness)
How to Get There
Type 'Cedar Bog Trail' into a smartphone map or GPS.
Or follow these directions:
Drive to the West Gate of Birds Hill Park along Highway 59.
Take the North Drive. You will see signs for the Cedar Bog Trail. Turn left into the parking lot.
Amenities
There's an outhouse and a water pump at the trailhead.
There are lovely beaches in Birds Hill: a great way to turn your hike into a full day excursion in warmer weather.
A couple snack shops on the beaches operate seasonally.
Several gas stations are along Highway 59.
We recommend the lovely Pineridge Hollow restaurant and shop for those seeking a higher-end conclusion to their day.
We also recommend stopping at Empty Cup for coffee! (In the Village at Pine Ridge)
About CPAWS Manitoba:
CPAWS Manitoba has been instrumental in establishing 22 new parks and protected areas in our province. That's an area larger than Lake Winnipeg at nearly 26,000 square kilometres. Our goal is to protect half of Manitoba's lands and waters.
About the CPAWS Manitoba Nature Club
CPAWS Manitoba's Nature Club is designed to help Manitobans get outside, make new friends and learn about the wonders of nature.
We've developed a wide range of programming and activities to help Manitobans of all ages and abilities enjoy the health and wellness benefits of nature. Find out more at our website – www.cpawsmb.org – and be sure to subscribe to our events newsletter and follow us on Facebook, Instagram, and Twitter so you don't miss out on upcoming events