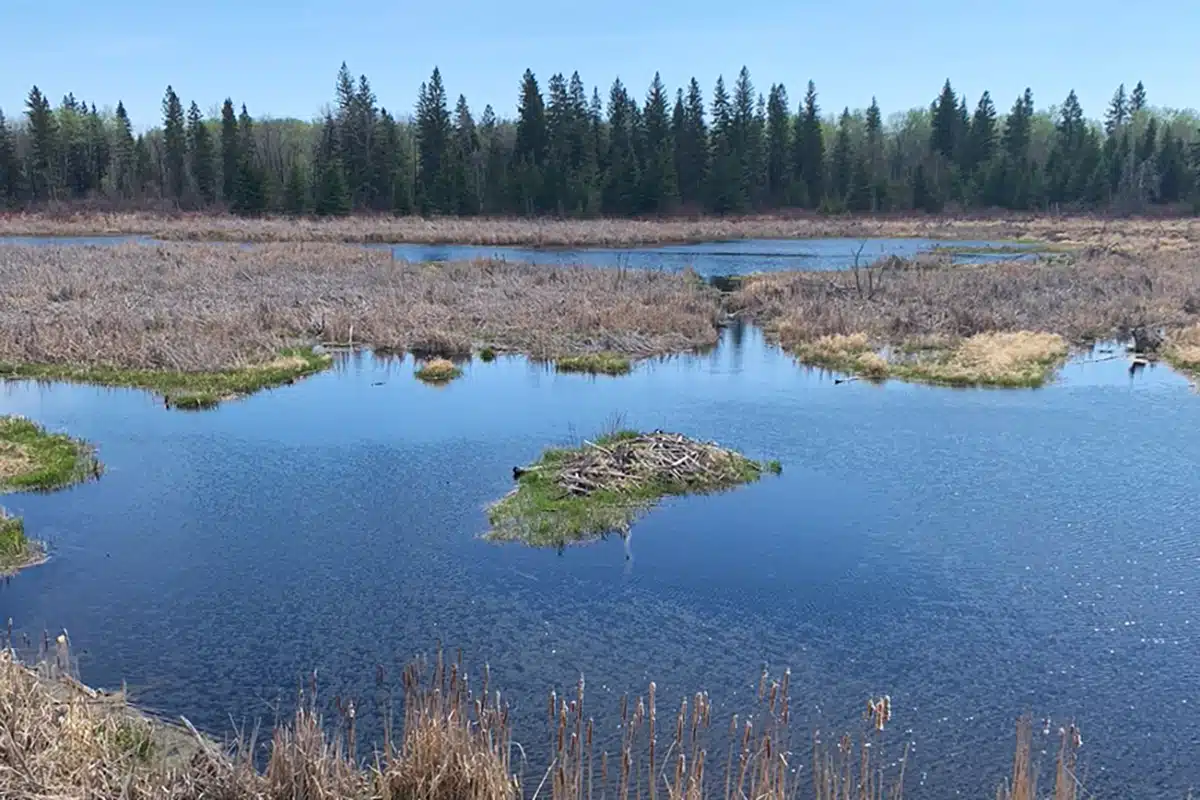 BY MIRA OBERMAN, COMMUNICATIONS AND ENGAGEMENT MANAGER, CPAWS MANITOBA
The Chickadee Trail is a great hike for families, people who are new to hiking, and experienced outdoorsy types looking for an easy but rewarding trek in the woods.
Just a short drive north of Winnipeg (or south of Selkirk), it's one of the more popular trails in Birds Hill Provincial Park for a reason.
The Chickadee Trail is well shaded, with a brief patch of open prairie amidst the mixed forest of trembling aspen, burr oak and fir trees.
There's also a wooden overlook tower about midway through the hike built at the top of an ancient glacier beach (elevation on the hill is 265 metres, compared with Winnipeg's elevation of 232 metres above sea level).
At just four kilometres — with a mild elevation gain — speedy hikers can complete the Chickadee Trail in about an hour. People who stop for snacks or to appreciate the wildflowers, birds, and occasional deer should plan to be on the trail for up to a couple hours.
People seeking a longer hike have three other trails to choose from that connect to Chickadee: Aspen (6.5 km), Esker (6.0 km), and Bluestem (14.0 km).
How to Get There
Drive to the West Gate of Birds Hill Park along Highway 59.
Take the North Drive.
Go past the sign for Cedar Bog Trail (also well worth your time.)
Watch for the sign to Chickadee Trail and turn left into the parking lot.
Don't forget your provincial park pass!
Click here to view a park map.
Amenities
There's an outhouse and a water pump at the trailhead.
There are lovely beaches in Birds Hill: a great way to turn your hike into a full day excursion in warmer weather.
A couple snack shops on the beaches operate seasonally.
Several gas stations are along Highway 59.
We recommend the lovely Pine Ridge Hollow restaurant and shop for those seeking a higher-end conclusion to their day.
What to Bring on Your Hike
A park pass is required for all vehicles entering provincial parks. An annual pass (which can be used in two vehicles) is $44.50. Daily permits are $9.50.
Check the weather forecast and dress appropriately! Pack a hat if it's sunny, a raincoat if it's going to get wet, and a sweater or jacket if it's going to be windy or cold. Dress in layers so you can cool off or warm up as needed.
Bring at least two bottles of water: you can leave one in your vehicle on a cool day; you'll want both on the hike if it's hot.
Bug spray and sunscreen: you can apply in the parking lot so you don't need to carry them on the hike.
Comfortable, sturdy shoes are a must. You don't need hiking boots. But sneakers are definitely a better choice than flip flops.
Snacks are a great way to keep your energy up along the trail. Many trails don't have restaurants or stores nearby so you may also want to pack a picnic lunch.
Hand sanitizer (Most trails have outhouses, not modern toilets.)
Any medication you may need (like your asthma inhaler or an EpiPen)
A safety whistle and a basic first aid kit (not required, but a good idea any time you're in the wilderness)
Do you want to go on a group hike with like-minded people? Our free group hikes part of our Outdoor Fun programming are an easy way to get outside and explore Manitoba's beautiful provincial parks with other people.
This program is possible thanks to the generous support of The Winnipeg Foundation and the Conservation Trust, a Manitoba Climate and Green Plan Initiative delivered by the Manitoba Habitat Heritage Corporation.