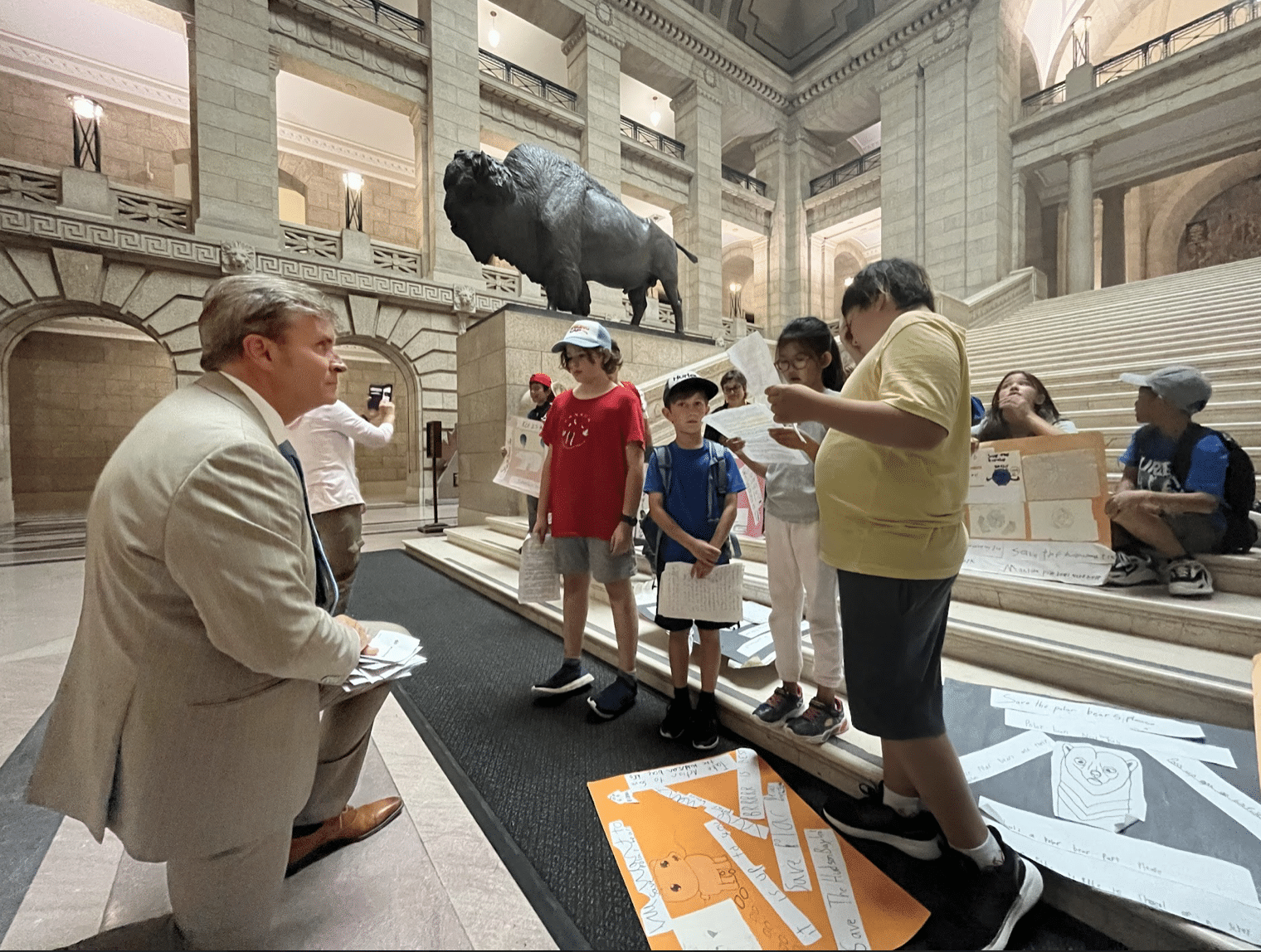 By Mira Oberman, Director of Communications and Public Programs
Children carrying posters and handwritten letters asking the Manitoba government to protect polar bears met with Environment and Climate Minister Kevin Klein in the legislature on one the last days of the school year.
"We are here to persuade you to help us! Will you help us?" one of the students asked Minister Klein as the students gathered on marble steps flanked by two massive sculptures of bison in the legislature's main entrance.
"Our hopes and dreams is, we want the Manitoba government to build a new provincial park for the polar bears on Treaty 5 near Chuchill, Manitoba," another child said, reading from a speech the grade 3/4 class had written together.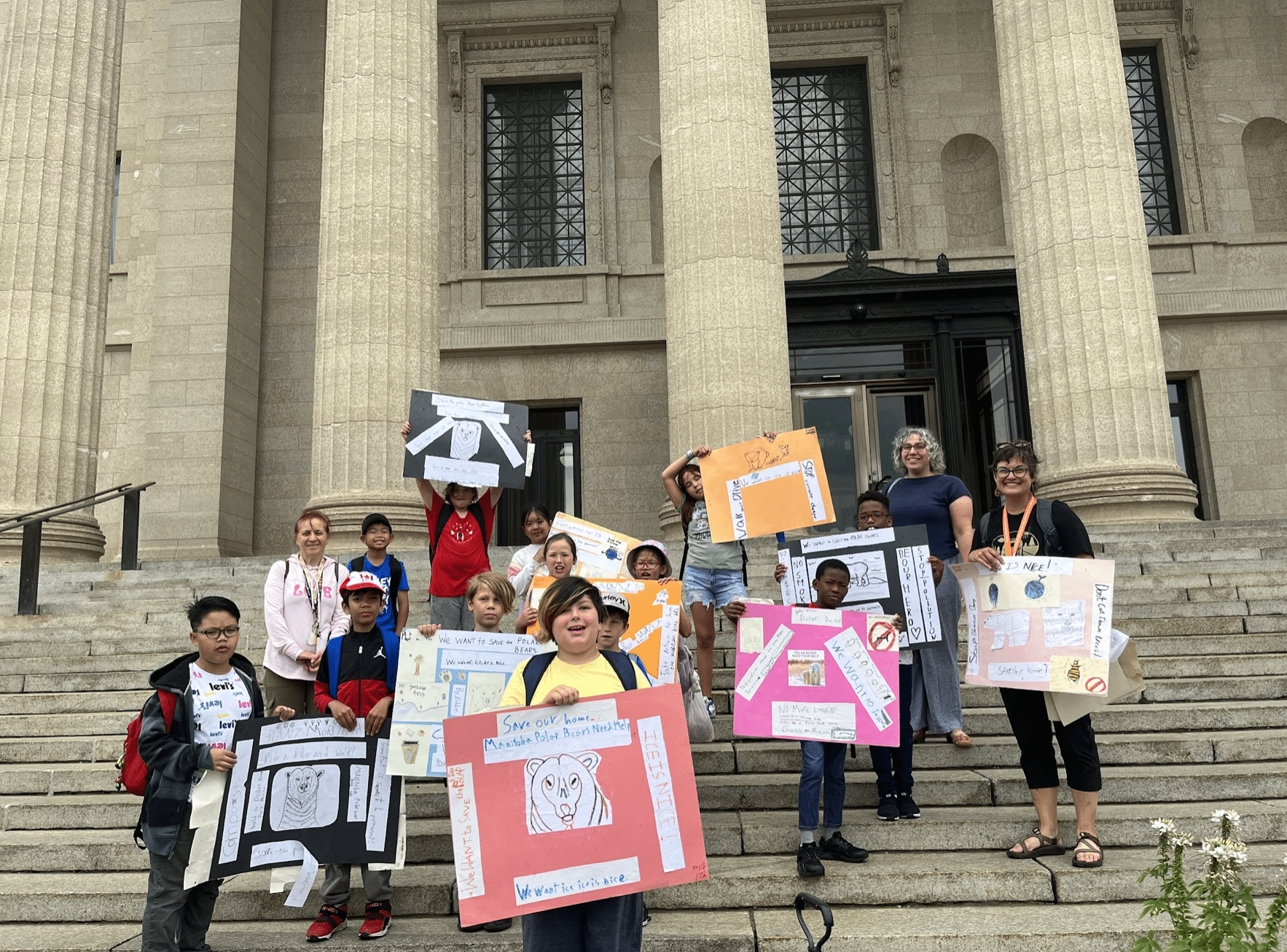 "At the zoo, and with CPAWS, we learned about the importance of climate control, polar bear's habitat and how Manitoba's newest animal symbol is the polar bear," a third child read aloud.
"Manitoba has lost a third of its polar bear population. We will lose even more as the ice in Hudson Bay continues to melt," he added. "If we act now, we can help mother bears protect their cubs."
The students from Greenway School in the west end of Winnipeg spent much of the year learning about polar bears, climate change and ways to help the environment.
They were inspired by a CPAWS Manitoba campaign to protect polar bear habitat by supporting Indigenous-led conservation, teacher Sarah Claassen said.
The campaign – and a visit from the CPAWS Manitoba Outdoor Learning team – helped the students learn about reconciliation, Manitoba's geography, the biology of polar bears, the political system and the impact of human activities on the environment. They also integrated art into the project and developed their writing and persuasive speech skills by working in pairs to write letters and draw posters, Claassen said.
The students are among more than 17,000 people who have written letters and signed postcards asking the provincial government to protect polar bear habitat by supporting the leadership of regional Indigenous Nations working to establish protected and conserved areas in Northern Manitoba.
Minister Klein said he was happy to spend nearly an hour with the children on June 27, 2023. He listened attentively while they read their letters and answered a few questions. Then he read aloud from a blue binder holding a ministerial letter of appreciation before handing out polar bear pins.
"I am extending my heartfelt congratulations to you and your students for the exceptional leadership and dedication shown in studying polar bears and the effects of climate change on their habitat in the lower Hudson Bay area of Northern Manitoba," Klein told the children.

"It is truly inspiring to see young minds taking an active role in understanding and raising awareness about the challenges our environment faces. By delving into the complex relationship between polar bears and their changing habitat, you are fostering a deeper appreciation for the delicate balance of our ecosystems."
"You are exemplifying the kind of leadership that will be crucial in confronting hte environmental challenges that lie ahead," Klein added. "I am confident that with young leaders like you, we can build a brighter and greener future."
Learn more about the campaign to protect polar bears and support Indigenous-led conservation. Send a letter in support of the campaign with this simple tool.
–Thanks in part to the National Audubon Society for making this blog possible. CPAWS greatly appreciates its support of our boreal conservation efforts in Manitoba–