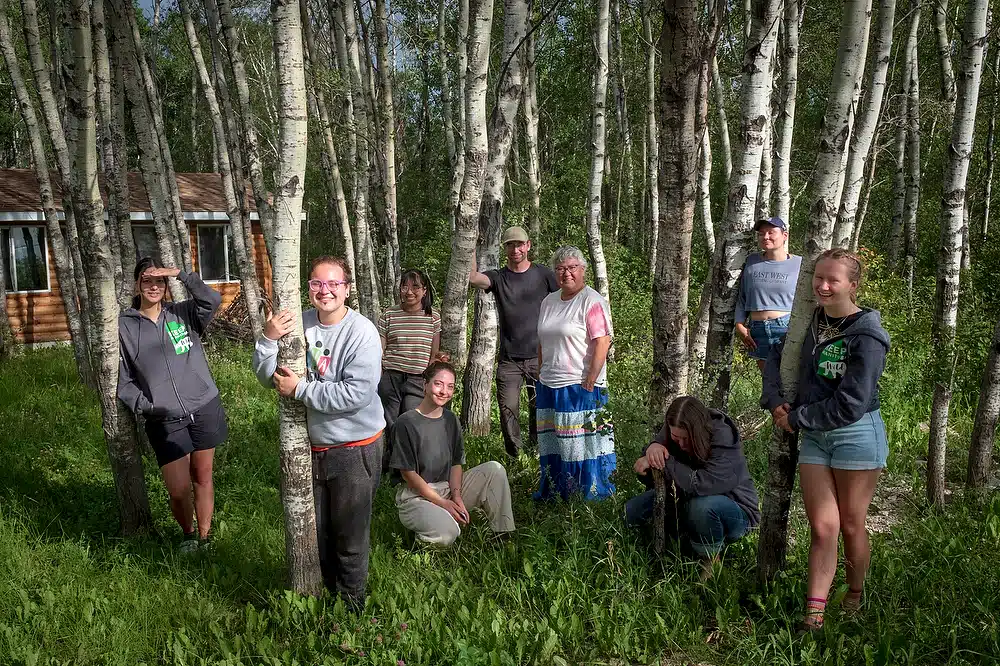 By Riley Chervinski, Communications and Events Coordinator
Our nights ended in quiet chatter around the bonfire and each morning greeted us with a blazing orange sunrise over the lake, slipping through the screens of our tents like a gentle alarm clock.
In between, we baked bannock, paddled canoes, beat drums, birdwatched, discovered plants on a medicine walk and took part in a full moon ceremony.
"The whole week was pretty amazing," said Alannah Penner, a CWSP participant from Point du Bois. "Between everyone who shared their teachings and all of our participants, the atmosphere was wonderful and very welcoming. I love that we did so much laughing."
We were gathered on the shore of Fisher Bay for four nights in August 2022 as part of the Canadian Wilderness Stewardship Program (CWSP), an educational experience designed to inspire the next generation of environmental stewards by connecting youth to nature. The program first launched in 2019.
Learn More: Canadian Wilderness Stewardship Program
Six participants from across Manitoba pitched a tent, unrolled their sleeping bags, and spent the week immersed in workshops that struck a balance between traditional knowledge and western science to further their conservation skills. 
"It's felt amazing being here. Our first morning when I woke up, I took my yoga mat to the edge of the water and I did some journaling and a bit of yoga. It was really nice taking it in. It was a super grounding feeling," said Cheyenne Sveinson, a CWSP participant from Gimli, Manitoba.
We are grateful to Fisher River Cree Nation for welcoming us into their community and sharing their youth cabin for the wilderness excursion. Fisher River Cree Nation is currently leading an initiative to establish a network of protected areas in the southeastern Interlake, in partnership with Peguis First Nation and CPAWS Manitoba. 
Learn More: Why Young Climate Activists Should Get Involved in Conservation
CWSP participants learned about the initiative, and the value of Indigenous-led conservation, as part of their excursion.
"I feel really privileged to be able to learn from the people here and to meet everybody and get to know the land," said Carter Graveline, another CWSP participant. "It's really a blessing. I've never been here before and I feel really grateful and honoured to be able to visit."
A balance of traditional knowledge and western science
Participants took part in a handful of workshops and land-based learning activities throughout the week, including canoeing in Goldeye Creek with Waterways Recreation and learning practical survival skills from Sherman Kong of Maple Leaf Survival.
Kong showed participants how to prioritize survival necessities—shelter/clothing, water, fire, and food—and how to chop wood and start a fire if they find themselves with limited tools.
Rebecca Sinclair of Indigenous Climate Action led a meaningful group discussion on policy and climate justice.
She challenged participants to list solutions to climate change before thinking critically about these proposed "solutions"—Who do they include or exclude? Whose culture and way of life do they really serve?
Learn More: Manitoba Must Match Federal Pledge to Protect 30% of Lands and Waters by 2030: CPAWS Manitoba
"Equity versus equality is a major new life lesson that I will carry with me for sure," said Sveinson.
Alannah Penner came away from the experience with much to reflect upon, particularly "who benefits" from actions taken to fight climate change and support conservation.
"When it comes to policy, to Indigenous-led conservation and Indigenous communities in Canada, the history of white supremacy, the patriarchy and all of that influence—these things need to be considered when moving forward and thinking about solutions," Penner said. "I'm going to keep reflecting on that."
A special afternoon was spent with Floyd and Faylene Sutherland, Elders from Peguis First Nation, who led a medicine walk through a forested area in Fisher River and shared their knowledge of the trees, plants, and berries around us.
Many of the plants in the area have been used in traditional medicines for hundreds of years, including willow bark and senega root.
"I have such a love for our part of the world here and all our plants, our trees, the rocks, and the water," Penner said. "Floyd and Faylene sharing their knowledge of those plants and their uses and the stories and laughter…it was really neat to be able to put names to some of those plants and their purposes."
Along the hike, participants learned to identify many of the trees and plants used by the community for medicine, food, and household use. They also spotted hazelnuts, saskatoon berries, and discovered the hidden sounds of black poplar trees.
Learn More: Follow Indigenous leadership: Letter to the Editor
"We got to listen to a tree and you could actually hear the water in the tree—it kind of sounded like a stream, so that was really cool," explained Graveline. "I've never listened to a tree like that before."
Our final evening concluded with a full moon ceremony led by Fisher River Cree Nation Elder Wanda Joy Murdock. She explained the power and purpose of ceremony, including the full moon ceremony, which is a time to honour ourselves, other women, and our relationship with the Grandmother Moon.
"Wanda spoke of how we need to release our anger, frustrations, and hardships in a healthy, positive way which she showed us through screaming, which I thought was really awesome," said Sveinson. "I also liked being in a circle of people sharing and trusting and going through that experience together. I think it brought us all closer toward the end of the week."
What's Next?
The program doesn't end after we've packed up our tents and left Fisher Bay.
Youth participants will continue to meet both virtually and in person throughout the fall and winter to discuss their community service projects. CPAWS provides both financial and operational support for those projects. 
Participants in 2021-22 worked on projects including:
A community litter cleanup in Brandon
Hosting a workshop to connect Metis youth to land-based learning
Creating an environmental student group in Niverville
The program will culminate with a virtual summit with youth who participated in similar programs in New Brunswick, the Ottawa Valley and Alberta.
Click here to learn more about the Canadian Wilderness Stewardship program.