How You Can Use the Leave No Trace Principles in Manitoba's Parks
BY RILEY CHERVINSKI, COMMUNICATIONS AND EVENTS COORDINATOR, OCEAN PROGRAM OF CPAWS MANITOBA
A record number of visitors are hiking, camping and paddling their way through Manitoba's provincial parks and campgrounds as a result of the Covid-19 pandemic.
The good news: there is plenty of room for them to explore! Manitoba has 92 provincial parks, 50+ campgrounds and more than 6,000 campsites across multiple ecozones and landscapes.

But with so many more people exploring our wilderness, we need to be even more vigilant to ensure we keep our parks healthy and litter-free.
That's where Sloan Cathcart, Head of Interpretation with Manitoba Parks, comes in.
Sloan outlined the seven principles of Leave No Trace and how we can use them in Manitoba's parks in a May 2021 CPAWS webinar Camping 101: From Car Camping to the Backcountry. 
From tips on how to snag a last-minute yurt reservation to fire safety and avoiding poison ivy, Sloan was a wealth of knowledge for more than 100 webinar attendees.
Read the recap below and watch a recording of the webinar here.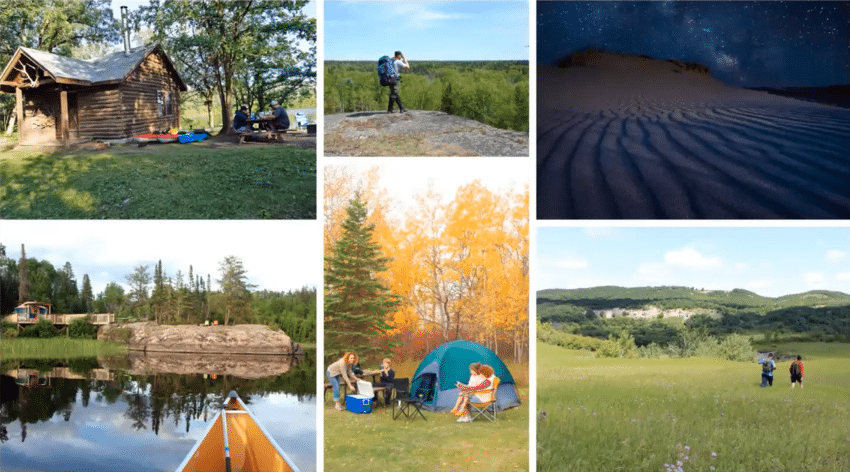 Plan Ahead and Prepare
It's important to plan ahead to ensure that your camping trip is both safe and enjoyable and to minimize your impact on the environment.
Take a few minutes to research the location where you'll be camping. Sloan recommends starting with the Manitoba Parks website. Here, you can download and view park maps, trail guides and find park policies, rules and regulations.
Even if you're already familiar with the park, the website hosts important updates and advisories including Covid-19 public health regulations, information on fire bans and other variables that might affect your visit.
When creating a list of items to pack, don't forget to consider things such as bags for garbage and waste, plenty of water and knowing where you can get firewood and extra propane for stoves.
Travel and Camp in Designated Spaces
Stay on the trail and use designated roads and routes to travel. When at the campsite, try to stay within the cleared area of your site. This doesn't just protect plants and wildlife from getting trampled under foot — it will also protect you from a potentially nasty rash.
"Lot of our parks, especially in southern Manitoba where we have sandy, gravely soils, are a great habitat for poison ivy," explained Sloan. "We get incidents each year of people complaining that they got poison ivy at their campsite, and it's often because they're going into the trees or are going off their site."
Dispose of Waste Properly
Be sure to find out where the garbage and recycling bins are located in each campground you visit. Never leave anything behind at your campsite.
If the garbage bins are full — which does happen on busy weekends at popular trails and campsites — consider packing your trash and bringing it back home with you. Not all parks have recycling bins, so bring your recycling home when necessary.
Burning garbage is a bad idea, as the smelly smoke may attract wildlife to your site.
"We often find aluminum cans and other things that don't quite burn because campfire doesn't get hot enough to incinerate everything. What ends up happening is you're leaving a dirty campsite behind with a full pit of garbage for the next campers."
Pet waste is also a problem. When campers fling their pet's waste into the woods, they're potentially exposing native wildlife to parasites or pathogens in the waste. It can also affect the soil and water quality in the park and is generally unpleasant for fellow hikers or campers.
Leave What You Find
In provincial parks, there are only four things visitors are allowed to pick up freely without a permit: garbage, berries, nuts and mushrooms.
"It's about leaving the landscape as natural as possible. It's important to preserve the past as many Manitoba parks contain very significant cultural and historic sites. This includes leaving the ground intact whenever possible. And if you are picking berries and mushrooms, never pick and eat anything unless you're 100% certain what it is," Sloan said.
Minimize Campfire Impacts
Minimizing fire risks is more important than ever after extreme dry conditions led to wildfires and a temporary closure of most trails in southern Manitoba in May 2021.
Responsible fire use means checking for fire bans, keeping your campfires small and contained and never leaving a fire burning unattended.
When it comes to firewood, Sloan reminded webinar attendees to buy locally and burn locally.
"Firewood can carry many pests, including the emerald ash borer, which has become a serious concern in Winnipeg as it has had devastating effects on ash trees," Sloan explained.
Federal regulations prohibit the transportation of firewood from Winnipeg to anywhere outside of the city.
Note: If you're planning to go to a provincial park, even one as close as Birds Hill Park, you cannot bring firewood from the city into the park. Manitoba's provincial parks and campgrounds have firewood vendors in or close to the parks where you can purchase firewood.
Respect Wildlife
Many of Manitoba's parks are in black bear country.
Campers should be aware of any campsite smells, including dish soap, toothpaste, deodorant, granola bars, garbage and citronella candles ("They're like candy to a bear," said Sloan). These belongings should be kept in a vehicle or other secure location whenever possible.
Respecting wildlife also includes not feeding them — even something as small as a bag of sunflower seeds may contain unnatural flavours and additives that can make animals quite sick.
Be Considerate of Others
Be aware of your noise levels, especially at night, explained Sloan. Don't blast music, yell or talk loudly or run generators for long periods of time.
Consideration also comes in the form of how you share your experience on social media.
Sloan urges people to be mindful when posting on social media and creating buzz about a particular campsite, trail or natural wonder that they've experienced in Manitoba's parks. A viral social media post or article can have serious impacts on an area if it becomes too overrun.
"When posting your experience on your social media channels, encourage others to visit parks responsibly and follow the Leave No Trace principles when they visit. Motivate everyone to become stewards of our park resources. It's a very simple and easy way for you to become an advocate," Sloan said.
This webinar was part of our Lunch and Learn series to encourage Manitobans to safely spend time outdoors, appreciating the beauty of our wild spaces and exploring nature in our own backyards.
This program is possible thanks to the generous support of Safe at Home, The Winnipeg Foundation and the Conservation Trust, a Manitoba Climate and Green Plan Initiative delivered by the Manitoba Habitat Heritage Corporation.