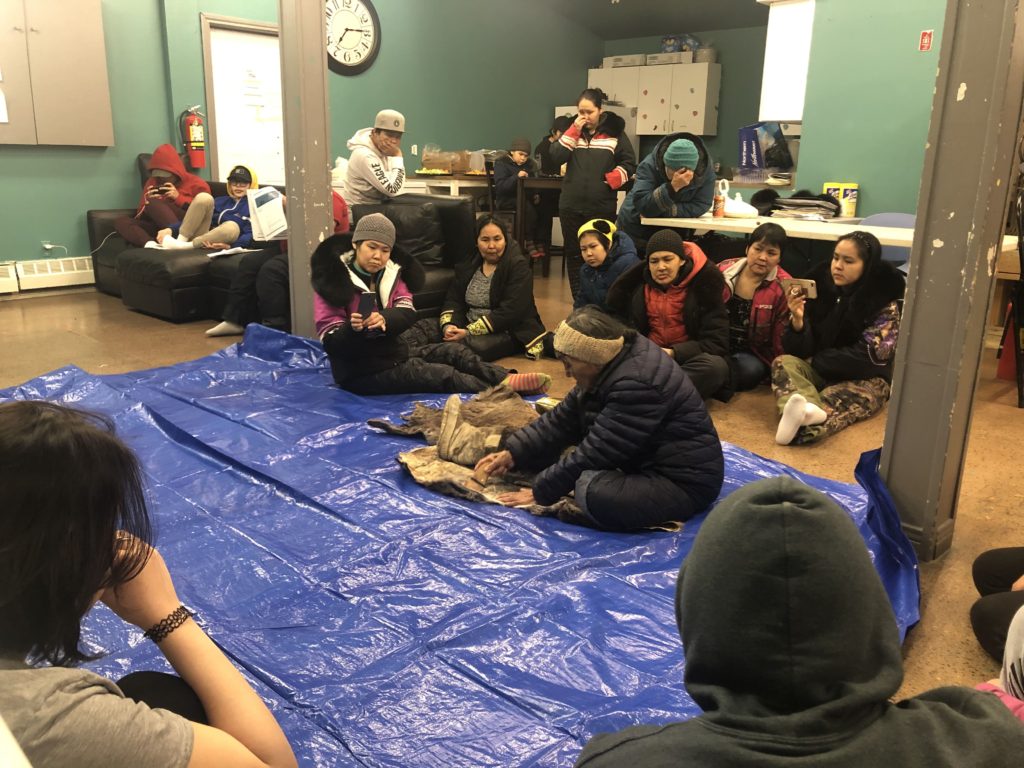 Four youth from Arviat helped their community engage in traditional practices by organizing a caribou hide tanning workshop with the support CPAWS.
Nearly 60 members of all ages attended the Youth Drop-in Center in Arviat to listen to elder Mary Anowtalik explain in Inuktitut how she removes hair and tans the caribou hide to make waterproof clothing and boots, sleeping pads, sewing materials and many other uses.
Mary spent close to an hour describing the process to her community members. She used a scraper tool to remove hair and make the hide smooth, and she spit water onto the hide while working it with her hands to stretch it out. Mary spoke of the importance of hide tanning in Inuit culture and its number of uses, including making baby diapers.
April Anowtalik was among many youth at the January 2020 workshop who recorded Mary's teaching so that they could carry on the skinning and tanning tradition in their households.
April told CPAWS that she had not processed a hide since she was a little girl. She expressed sadness that fewer than 20 people in the community of nearly 3,000 people still had the knowledge of skinning and tanning hides—a tradition that has been so valuable for her ancestors living off the land.
The workshop organizers — Andrea Alikut, Natalie Uluadluak, Kirsten Pameolik, and Randy Anowtalik — were among 15 Dene, Cree and Inuit youth who spent a week in the woods near Tadoule Lake, Manitoba in September 2019.
The Tadoule Lake Stewardship Summit aimed to foster future leaders, teach valuable stewardship skills & connect Indigenous youth with traditional practices. The Indigenous youth learned about watershed conservation, environmental monitoring and archeology and shared cultural practices such as drumming and hide tanning.
One of the more remarkable moments of the summit was when the youth discovered that the Inuit and Dene work caribou hides in different ways and with different tools.
Andrea, Kirsten, Natalie and Randy spent much of their free time at the summit working on a hide with Stephanie Thorassie from Sayisi Dene First Nation.
When it came time to complete a community service project as part of the Canadian Wilderness Stewardship Program, the youth decided they wanted to share their interest in hide tanning with their peers. Randy's grandmother was happy to lead the workshop.
The stewardship program aims to connect youth from across Canada to their natural spaces and traditional practices. Other wilderness trips organized by CPAWS took place on the Restigouche River in New Brunswick and the Noir River in Ottawa Valley. The program was funded by the Government of Canada under the Canada Service Corps program.
The youth from Arviat and Northern Manitoba shared their experiences with their counterparts from New Brunswick and Ontario at the Canadian Wilderness and Stewardship conference in Ottawa in February 2020.