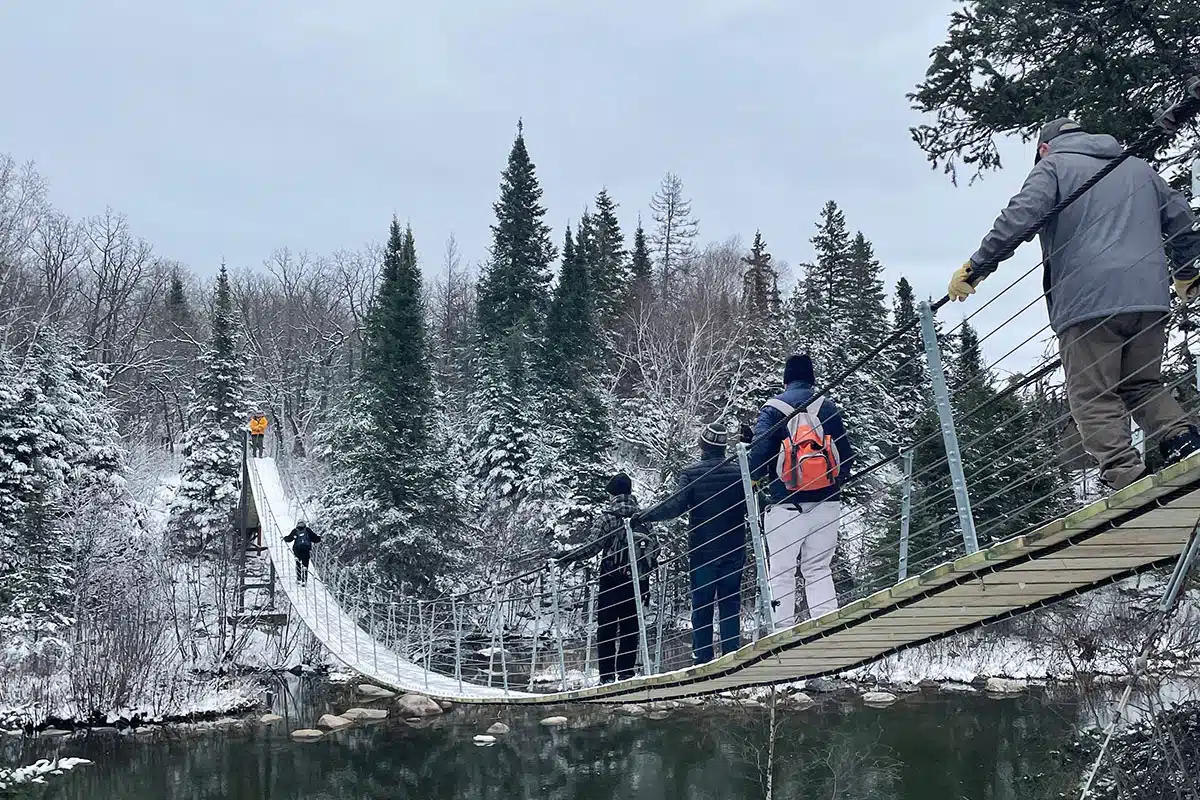 BY MIRA OBERMAN, COMMUNICATIONS AND ENGAGEMENT MANAGER, CPAWS MANITOBA
The Pinawa suspension bridge brings out the child in just about anyone as it bounces freely under your step. Rising 13 ft above the water, it offers an incredible view of the area.
The trail on the other side is well worth the trip. It's along the farthest western reach of the Canadian Shield with plenty of Precambrian rock to climb but a gentler slope than you'll find in the Whiteshell. It meanders past lakes, a wetland and inspiring views of the river below. In summer you can see tubers, kayaks, and canoes speeding along the water.
Part of the Great Canadian Trail, this hike can be as long or short as you want it to be. A typical hike would be from the bridge to the old dam, about 5 km there and back. There are several side trails and mini loops along the way so take a moment to pause at junctions to make sure you're going the right way.
We usually start our hike at the suspension bridge and trek 2.5 km in and out again. It takes us about 90 minutes but could be longer based on trail conditions and/or if you like to stop to explore or enjoy the view.
How to Get There
Set your GPS for the Pinawa Cemetery, or follow these directions:
Take Provincial Trunk Hwy 59 N/MB-59 N toward Grand Beach
Merge onto Provincial Trunk Hwy 44 E/MB-44 E via the ramp to Beausejour
Turn right to stay on Provincial Trunk Hwy 44 E/MB-44 E
Turn left onto Provincial Trunk Hwy 44 E (signs for Vivian)
Turn left onto MB-11 N (signs for Lac Du Bonnet)
Turn right onto MB-211 E (signs for Pinawa)
Turn left at Dorchester Ave
Amenities
There's an outhouse at the trailhead.
There are some great restaurants nearby in the town of Pinawa, including the Pinawa Golf Club Restaurant.
There is a gas station and a Tim Horton's drive-thru in Beausejour.
How to Dress for Winter Hiking
The key to enjoying winter activities is to stay warm and dry.
Layers are your best friend. Hiking is good exercise. You don't want to get sweaty while you're moving and then catch a chill when you stop. So be aware of your body temperature and take layers off — or pile them on — as needed.
Start with a lighter puffer jacket or windbreaker supplemented by a sweater or fleece and a long sleeve shirt (a moisture-wicking fabric baselayer if you have one, cotton if you don't). You may overheat in a heavy parka unless it's very, very cold out.
Snow pants or windbreaker/shell pants are well worth the investment. They don't have to be expensive. They just need to keep your bottom half warm and dry, especially when you sit down for a snack break.
Don't forget a warm hat, mitts, and either a scarf or neckwarmer. You can layer thin gloves under heavy mitts for added warmth and flexibility.
Warm, comfortable, and sturdy boots are a must. You don't need expensive hiking boots. But you will not enjoy walking through the woods in sopping wet sneakers or leather boots with a high heel.
What to Bring on Your Winter Hike
Bring at least two bottles of water: you can leave one in your vehicle on a cool day; you'll want both on the hike if it's hot.
Snacks are a great way to keep your energy up along the trail. Many trails don't have restaurants or stores nearby so you may also want to pack a picnic lunch.
Hand sanitizer (Most trails have outhouses, not modern toilets.)
Any medication you may need (like your asthma inhaler or an EpiPen)
A safety whistle and a basic first aid kit (not required, but a good idea any time you're in the wilderness)
Do you want to go on a group hike with like-minded people? Our free group hikes part of our Outdoor Fun programming are an easy way to get outside and explore Manitoba's beautiful provincial parks with other people.
About the CPAWS Manitoba Nature Club
CPAWS Manitoba's Nature Club is designed to help Manitobans get outside, make new friends, and learn about the wonders of nature.
We've developed a wide range of programming and activities to help Manitobans of all ages and abilities enjoy the health and wellness benefits of nature.
Be sure to subscribe to our events newsletter and follow us on Facebook, Instagram, and Twitter so you don't miss out on upcoming events.
This program is possible thanks to the generous support of The Winnipeg Foundation and the Conservation Trust, a Manitoba Climate and Green Plan Initiative delivered by the Manitoba Habitat Heritage Corporation.