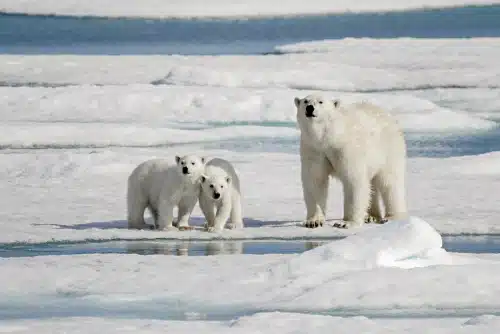 BY RON THIESSEN, EXECUTIVE DIRECTOR OF CPAWS MANITOBA
This Opinion Piece was published by the Free Press on Dec 24, 2022. The newspaper's editorial board published an editorial on COP15 the same day.
A historic deal to conserve nature was reached in Montreal at about 3:30 am last Monday after global leaders at the COP15 UN Conference on Biological Diversity agreed to protect 30 per cent of the planet for nature by 2030.
Now the really hard work begins.
We have just seven years to nearly double global protected areas from the current rate of 17 per cent.
It's been 150 years since the world's first national park was established in Yellowstone.
Since then, conservation has become much more complicated (though often for good reasons: a less colonial approach takes more time.) There are many competing and vested interests to consider.
But we can't wait any longer. One million species of animals and plants are at risk of disappearing forever, and a whopping 75 per cent of the planet's land area has been altered by human activity.
Global governments have never met the ambitious targets they set for themselves at previous UN conferences on biological diversity or climate change.
The Kunming-Montreal Global Biodiversity Framework aims to avoid previous failures by including targets and mechanisms to measure progress. It also includes (non-binding) commitments that would potentially double biodiversity funding from all sources to $200 billion a year.
Manitoba has many opportunities to do its part and expand protected areas in the province from the current 11.1 per cent to 30 per cent by 2030.
Indigenous peoples are leading the way.
The federal government has funded nine conservation projects in Manitoba through its Target 1 Challenge. Eight are Indigenous-led.
At a joint press conference with the federal and provincial governments during COP15, the Seal River Watershed Alliance announced significant progress in its quest to conserve an area of pristine wilderness that is nearly the size of Nova Scotia.
At 50,000 square kilometres, the alliance of Dene and Cree nations aims to conserve eight per cent of Manitoba as an Indigenous Protected Area.
Two other initiatives could preserve large areas of invaluable polar bear habitat, along with vast stores of carbon in the Hudson Bay Lowlands.
The Kitaskiinan Kawekanawaynichikatek Indigenous Protected and Conserved Area (IPCA) Initiative is an alliance of five Cree nations working to determine how best to protect nature within a study area of nearly 47,000 square kilometres.
The Manitoba Métis Federation is working toward the establishment of an IPCA in the area between Caribou River Provincial Park and Wapusk National Park. The MMF is also working on a project in the Kettle Hills area near Swan River.
Nisichawayasihk Cree Nation and Tataskweyak Cree Nation are also working on IPCA projects in northern Manitoba.
In southern Manitoba, Fisher River Cree Nation is leading an initiative to preserve wilderness within an 11,000 square kilometre study area in the southeastern Interlake.
Skownan First Nation is working to expand Chitek Lake Anishinaabe Provincial Park north of Riding Mountain National Park.
We are grateful for the stewardship and leadership of Indigenous peoples in Manitoba. But there is still so much more work to be done.
It isn't enough to conserve 30 per cent of our lands and waters. We must also be good stewards of nature outside of protected areas. That will require major shifts in land and water management.
Lake Winnipeg is the most dramatic example of the impact of poor management in our province. The Lake Winnipeg Foundation developed an eight-point action plan in 2013 to address such issues as the harmful algae blooms caused by nutrients from sources such as Winnipeg's sewage treatment plant and agricultural runoff. Nearly a decade later, those actions have yet to be fully implemented.
COP15 showed us what people are capable of doing when they work together. Representatives of 188 countries set aside radically divergent interests to reach agreement on four ambitious goals to protect nature and 23 conservation targets.
Manitobans pride themselves on their friendliness and spirit of co-operation. I am sure we can set aside our differences to preserve nature for future generations of people and wildlife.
Show your support for nature by urging Premier Heather Stefanson to protect polar bear habitat, the southeastern Interlake and the Seal River Watershed with a quick and easy letter-writing tool.
Ron Thiessen is the executive director of the Manitoba Chapter of the Canadian Parks and Wilderness Society, which aims to protect half of Canada's wild spaces for future generations of people and wildlife.
–Thanks in part to the National Audubon Society for making this blog possible. CPAWS greatly appreciates its support of our boreal conservation efforts in Manitoba–