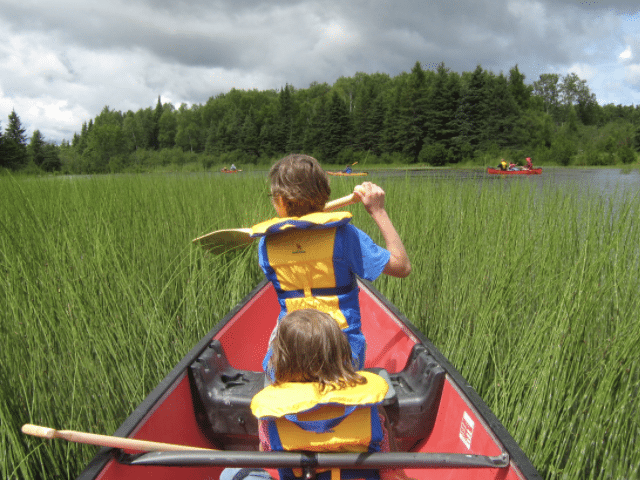 Examining Nature Deficit Disorder at an Expert Panel to Celebrate CPAWS Manitoba's 25th Anniversary.
1991 was the year the World Wide Web was introduced, the number of computers connected to the internet reached 1 million, The Lorax author Dr. Seuss died and the Canadian Biodiversity Forum was launched. It was also the year the Manitoba Chapter of the Canadian Parks and Wilderness Society was established.
In 2016, CPAWS Manitoba is proudly marking 25 years of conservation success in this province. It's a time to look back at our accomplishments and how they have helped to assert a voice for nature through a quarter century of unprecedented global changes.
CPAWS Helped End Logging in Manitoba Parks
During that time we have helped to achieve an end to logging in (all but one) Manitoba provincial parks, the preservation of important waters like the Manigotagan River and Little Limestone Lake and secured permanent protection for the Fisher Bay region in partnership with First Nations.
Our efforts have also contributed to the creation of Kinwow and Sturgeon Bay provincial parks, the government commitment to protect 17% of public lands in Manitoba by 2020, ensured strong provincial leadership in the effort to recover threatened woodland caribou populations and have helped to create the conditions for successful protections in the heart of the Boreal on the east side of Lake Winnipeg.
As we're not getting any younger, we know full well that the future stewardship of the Boreal landscape will be inherited by the youth of today so we're celebrating our milestone by looking ahead with a series of events aimed at fostering the next generation of environmental leaders in Manitoba.
To kick things off, CPAWS hosted an expert panel discussion on 'Nature Deficit Disorder' to a full house at the Winnipeg Free Press café to amplify the conversation surrounding the challenge and importance of connecting young people to the natural world. Panelists Ruth Lindsey-Armstrong, Chloe Dragon Smith and Cam Collyer shared their insights, guided by moderator Mary Agnes Welch.
Nature Deficit Disorder: 'Human Cost of Alienation from the Natural World'
The term 'Nature Deficit Disorder' was coined by author Richard Luov to describe the 'human cost of alienation from the natural world.'
As Collyer explained, the term is not medically recognized and often contested but has served to bring into one conversation the suite of issues surrounding nature, societal changes, health and technology, particularly as they relate to children.
From Lindsey-Armstrong's perspective, to label it a disorder is less fitting than looking at the issue from a rights perspective. 'Children are not meant to grow up indoors and depriving children of nature based experience is more so a breach of their rights rather that evidence of a disorder'.
Connecting to nature does not look the same to everyone. Dragon Smith highlighted cultural background as one area where those differences are rooted. The idea of nature as a venue for leisure and recreation might feel foreign to someone whose connection to nature is built through everyday tasks like firewood collection or berry picking or other forms of land based cultural practice. ''We need to be open to all kinds of different experiences in nature and how different people from different cultures want to experience nature on their terms.'
How Do We Connect Kids to Nature?
As parents and mentors, what can we do to foster a young person's relationship to the natural world?
'Reflect,' says Lindsay-Armstrong. One of the most powerful actions for older generations to do for young people today is reflect on the experiences of nature that we were afforded as young people and how they shaped our relationship to the natural world and our sense of self-reliance.
This reflection can guide us in creating similarly formative opportunities and experiences for children today. It's those experiences that help build children into compassionate adults with the tools to appreciate and steward the landscapes they have grown to be a part of.
By nurturing inspiration and opportunity for young people to develop a passion for wilderness, we are hopeful that the next 25 years can see Manitoba seize the opportunity to emerge as a world leader in collaborative, large landscape planning and conservation that balances the needs of people, wildlife and the long term viability of a Boreal-based economy. Stay tuned for further events on this theme hosted by CPAWS throughout 2016 and 2017.
Image 1: Sandra Rodkin
Image 2: Moderator Mary Agnes Welch engages expert panelists Ruth Lindsey-Armstrong, Chloe Dragon Smith and Cam Collyer during a public discussion on nature deficit. The event was hosted by The Canadian Parks and Wilderness Society (Manitoba Chapter) as part of their 25th Aniversary celebrations.
Republished from the Manitoba EcoJournal V.23 no. 2