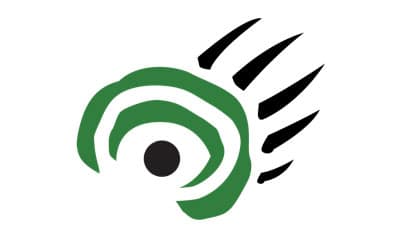 The Pimachiowin Aki project aims to designate Manitoba's Bloodvein River and surrounding forests a UNESCO World Heritage Site
These men, who were born and raised near the Bloodvein River, point to ancient pictographs that are part of their heritage. (Photo: Hidehiro Otake)
Bald eagles soar over Manitoba's Bloodvein River and a forest of lichen-draped Jack pines and mattress-thick moss. Piloted by grinning guides who shout at one another in Ojibwa, our boats splash through a series of churning rapids en route to an ancient rock painting on a granite cliff.
This river and the forest surrounding it are at the core of a campaign to create a UNESCO World Heritage Site on approximately 4.3 million hectares of boreal forest straddling the Manitoba-Ontario border, about one-third of the way up the eastern side of Lake Winnipeg. The goals of the Pimachiowin Aki preservation project are clear: protect a largely intact swath of trees and lakes and rivers, and the cultural traditions that live on here, from encroaching development. What's less clear from the river, however, are the politics behind the proposed site — chiefly, the battle over the location of a major hydroelectric transmission line, as well as competing visions of economic development among First Nations.
"We have a lot to share with you and to teach you," says Sophia Rabliauskas, the project's soft-spoken community coordinator, during a spring tour of the area organized for journalists, environmentalists, scientists and politicians, including Manitoba Premier Greg Selinger. "Hopefully, people will get a chance to see that."
Nearly a decade ago ago, four local First Nations began developing a plan to apply to UNESCO for World Heritage Site status (a fifth First Nation joined the group later). The land in question is home to about 7,200 members of the Bloodvein, Little Grand Rapids, Pauingassi, Pikangikum and Poplar River first nations, as well as a pair of provincial parks (Atikaki and Woodland Caribou) in Manitoba and Ontario, whose governments have been part of the pitch from the start.
Pimachiowin Aki (pim-MATCH-chowin ahh-KEY) means "the land that gives life" in Ojibwa, and the UNESCO application is rooted in both the natural and the cultural value of the region. Becoming a World Heritage Site would not only preserve habitat for threatened species, including woodland caribou and lake sturgeon, but also showcase traditional ways of relating to the land, such as harvesting wild rice and hunting moose.
"The original idea was just protection of traditional territory," says William Young, owner of the Bloodvein River Lodge, the base for our river excursion. "Now we want to manage the area within our traditional territory. I think becoming a UNESCO site would give it more exposure both internationally and in urban Canada, especially Winnipeg."
A UNESCO designation as a world-class landscape tends to draw tourists, which could be a boon to a place already popular with Americans and Europeans, who come to fish for pickerel and pike and to experience First Nations culture.
Until now, the culture of these communities has been protected by their isolation. To travel south, residents usually cross Lake Winnipeg to reach Highway 8, a two-hour trip by boat or, in winter, by truck when the ice is solid. There's also an old winter logging road east of the lake that heads south. To fly, it costs $250 for a one-way ticket out of Bloodvein.
That will change, however, with the construction of a four-season highway along the eastern shore of Lake Winnipeg that will extend about 150 kilometres north of Bloodvein to Berens River. The new road is scheduled for completion in 2014 or 2015 and would connect to southern highways and provide easier access to health care and fresh food for residents of remote communities. But there are fears it could also bring alcohol, drugs and gangs to northern reserves. Moreover, the road could potentially open up the area to mining and forestry companies, although getting a UNESCO designation would significantly limit the extent of industrial development.
The most pressing industrial issue is the new hydroelectric transmission line, Bipole III, that Manitoba Hydro plans to build from the north of the province to Winnipeg. Politicians are arguing over the location of the line — indeed, it has become one of the main issues in early October's provincial election — and over whether its route will affect the proposed UNESCO site.
Manitoba's current NDP government wants the power line to be built west of Lake Winnipeg, claiming that selling electricity to the United States hinges on the power being produced and transmitted in an environmentally friendly manner. "As you know, Alberta has a reputation with the oil sands," says Premier Selinger. "We don't want to be put into that basket."
The Progressive Conservatives — a close second in early polls — are in favour of a shorter and cheaper route down the east side of the lake, through Pimachiowin Aki. That wouldn't prevent the area from becoming a UNESCO site, says Hugh McFadyen, Leader of the Official Opposition, who points out that construction jobs and profit-sharing by Manitoba Hydro would help northern First Nations. "What they shared with us is the devastating poverty in those communities," he says, "and the hope to find some ongoing economic development."
George Kemp, chief of Berens River First Nation, supports the east-side route and his community has not signed on to the UNESCO bid. "This is another attempt to lock up the east side by environmentalists from outside our communities," he says. "There is a false promise that ecotourism is the answer for economic development."
After years of meetings and boxes of studies, a decision is expected from UNESCO by late 2013 or 2014. Roughly half of all nominations are accepted, and Canada already has 15 UNESCO sites, including SGang Gwaay on Haida Gwaii, B.C., and Wood Buffalo National Park on the Alberta– Northwest Territories border.
Back at the Bloodvein River Lodge, two women fry pickerel and stir a pot of moose stew. Martina Young, a greyhaired elder wearing a T-shirt that spells out R-E-S-P-E-C-T, talks about the potential economic benefits of the road but also her uncertainty, even fear, of the unknown. Change is coming, regardless of UNESCO's verdict, and people in Bloodvein are both worried and hopeful about the future.