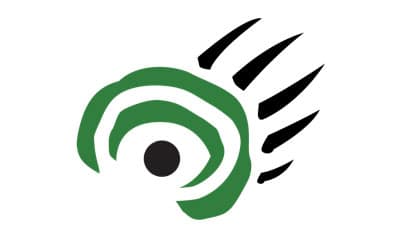 CPAWS' Ron Thiessen (left) delivers a CD containing almost 10,000 letters from concerned international citizens to Hugh McFadyen (right).
Today, copies of almost 10,000 letters from North Americans who support a World Heritage Site on the east side of Lake Winnipeg were delivered to the Manitoba legislature. The letters ask the province to maintain the quest for the prestigious international UNESCO World Heritage Site status for the ecologically and culturally significant region and to hold strong on its decision to not run a major hydro corridor through the area.
Representatives from three leading Manitoba environmental groups made a point of hand delivering copies of the letters to Manitoba Tory leader Hugh McFadyen, the main proponent for an east side hydro corridor routing. A major hydro transmission pathway through the region would jeopardize Manitoba's chance of UNESCO granting a world heritage site.
The competition to achieve World Heritage Site designation is challenging as many apply, few are chosen. Manitoba needs to make its application the best it can be. Contrary to assertions that a major hydro route would not harm the world heritage site bid, in the past year UNESCO removed WHS status from a site in Germany because of inappropriate developments and warned others that status may be lost if proposed developments are given the go-ahead.
People across North America are recognizing the ecological and cultural values of the largest intact boreal forest on earth, and are standing up to ensure conservation opportunities aren't lost to unchecked industrial developments. The Heart of the Boreal is one of the greatest storehouses of carbon, and greatest sources of fresh water on the planet. First Nations communities in the Heart of the Boreal are putting conservation and communities first by requesting protection for the lands and waters of the East Side.
Prior to the Manitoba government's 2007 announcement that they would not allow a hydro line to be built through the East Side, 13,000 letters from Manitobans were sent to the province supporting conservation and the World heritage Site bid in the Heart of Boreal.
Today's letters were delivered on a CD, together with blank sheets of paper visually representing the number of letters. Mr. McFadyen was encouraged to use the 100% post-consumer, recycled, non-chlorine-bleached paper in his office.
The Heart of the Boreal initiative is comprised of the Boreal Forest Network, the Canadian Parks and Wilderness Society, and the Wilderness Committee. The U.S. based Natural Resources Defense Council is working with the groups to assist in educating North Americans about the conservation opportunity on the east side of Lake Winnipeg.
Contact:
Ron Thiessen, Canadian Parks and Wilderness Society, 204–794–4971, [email protected]
Eric Reder, the Wilderness Committee, 204–997-8584, [email protected]
Susanne McCrea, The Boreal Forest Network 204-297-0321, [email protected]
Susan Casey-Lefkowitz, The Natural Resources Defense Council, 202-289-2366, [email protected]
For photos, video and link to action, see Website: www.heartoftheboreal.ca
-30-
Send an electronic letter to support Manitoba's designation as a World Heritage site