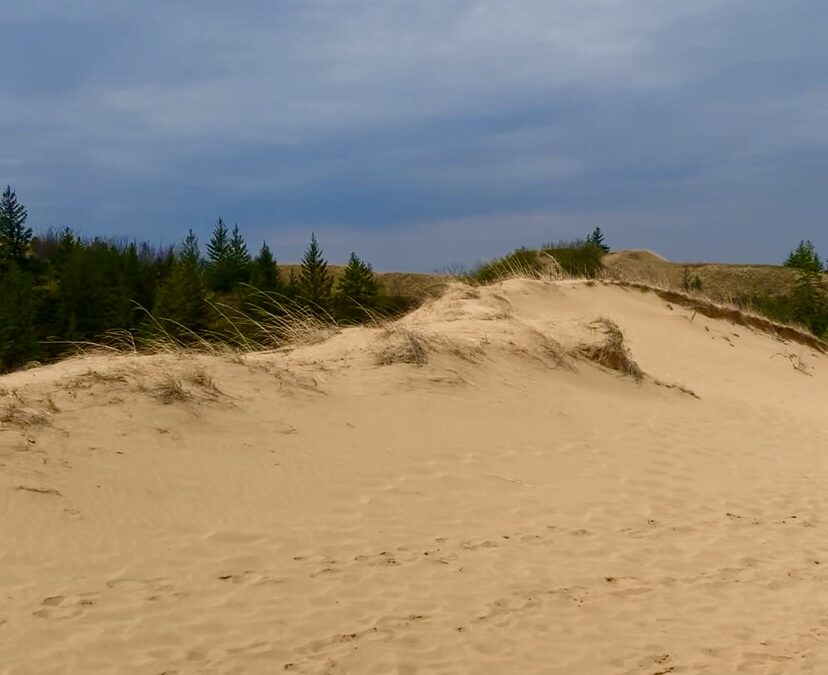 By Katie Borgfjord, Digital Marketing Coordinator
Always wanted to explore the desert, but didn't want to take the trip? Did you know we have the next best thing right here in Manitoba!
You can sink into massive sand dunes just two hours from Winnipeg, in Spruce Woods Provincial Park. Although not a true desert by definition, the sandhills, cacti, hot temps, and dunes of Spruce Woods sure look like one.
"Incredible sand, you just want to take your shoes off and dig your toes in the sand," said a woman who joined a CPAWS hike on May 13, 2023.
Another hiker said, "We get emails from your group that tell us about all the hiking activities that are available. It's really inspiring to see them, I should do more."
Weren't able to join us? No worries. You can do it on your own pretty much any day of the week.
Hard-core hikers love to push themselves all the way to the Devil's Punch Bowl – a total of 10.3 km trip.
We kept it a bit more reasonable by taking a shorter loop of just 4 kilometers. We passed through varied landscapes and ecosystems including grassland prairies, forest, parkland, and sand dunes. There are spectacular vistas of the dunes and the forest from an observation deck.
We scheduled the hike for early May in hopes of spotting Manitoba's provincial flower, the Prairie Crocus. And we did! It's gorgeous and there are plenty of places along the trail where you might be able to see one.
The area is also home to many different types of snakes in Manitoba and the Prairie Skink, Manitoba's only lizard.
"I love hiking and I love spirit sands," another participant said as we took a break at the trailhead to the Devils Punch Bowl.
People wishing for a spectacular – but demanding – experience can add on another 5 km to see the Devil's Punch Bowl.
"I really want to protect the environment, I am an environmentalist. I just want everybody to do their part so that we can continue this for generations to come. Thank you to CPAWS," said a group hike participant.
Why Hike Spirit Sands?
For centuries people have come here to see something special—even world-renowned nature writer Ernest Thompson Seton walked the sandhills wanting to learn more about nature. Experience the massive dunes that were deposited at an ancient river delta of glacial Lake Agassiz.
Hiking Tips and What to Bring:
Please pack enough water and snacks accordingly.
Check the weather forecast and dress appropriately! Pack a hat if it's sunny, a raincoat if it's going to get wet, and a sweater or jacket if it's going to be windy or cold. Dress in layers so you can cool off or warm up as needed.
Comfortable, sturdy shoes are a must. You don't need hiking boots. But sneakers are definitely a better choice than flip flops.
Bring at least two bottles of water: you can leave one in your vehicle on a short hike; you'll want both on a long hike.
Snacks are a great way to keep your energy up along the trail. Many trails don't have restaurants or stores nearby so you may also want to pack a picnic lunch.
Bug spray and sunscreen: you can apply in the parking lot so you don't need to carry them on the hike.
Hand sanitizer (Most trails have outhouses, not modern toilets.)
Any medication you may need (like antihistamines, your asthma inhaler, or an EpiPen)
A safety whistle, pocket flashlight, and a basic first-aid kit (not required, but a good idea any time you're in the wilderness)
How to Get There:
Type 'Spirit Sands Trail' into a smartphone map or GPS.
Or follow these directions:
Take Trans-Canada Hwy/MB-1 W
Turn left onto Provincial Rd 351 W/MB-351 W (signs for Melbourne)
Turn left onto MB-5 S
Turn right at the sign for Spirit Sands
Remember that a park pass is required for all vehicles entering provincial parks. An annual pass (which can be used in two vehicles) is $44.50. Daily permits are $9.50.
Amenities
There is a spacious parking lot at the trailhead with a clean outhouse-style toilet and a water pump. There are more water pumps along the trail but the water in them is not treated. There are outhouse toilets along the trail as well, shortly after the sand dunes and near the Punch Bowl.
The town of Carberry is nearby for restaurants, groceries and other basics.
About CPAWS Manitoba
CPAWS Manitoba has been instrumental in establishing 22 new parks and protected areas in our province. That's an area larger than Lake Winnipeg at nearly 26,000 square kilometres. Our goal is to protect half of Manitoba's lands and waters.
About the CPAWS Manitoba Nature Club
CPAWS Manitoba's Nature Club is designed to help Manitobans get outside, make new friends and learn about the wonders of nature.
We've developed a wide range of programming and activities to help Manitobans of all ages and abilities enjoy the health and wellness benefits of nature.Be sure to subscribe to our events newsletter and follow us on Eventbrite, Facebook, Instagram, and Twitter so you don't miss out on upcoming events.