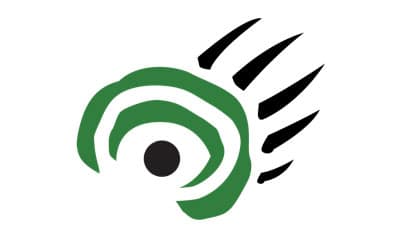 Lake Winnipeg researchers are warning the giant mass of blue-green algae washing up on beaches on the east side of Lake Winnipeg is producing poison.
Research biologist Hedy Kling, an algae specialist, said water samples taken offshore from Grand Beach by scientists on the MV Namao research ship last week included several species of blue-green algae, as well as microcystin-LR.
The level of the toxin is more than double the level that's safe for drinking, but is considered safe for swimming and boating.
Kling said Tuesday people who go to beaches on Lake Winnipeg should use caution when the algae bloom ends up onshore. "You have to use your common sense," she said. "People should be careful and not go swimming when it's thick or wakeboarding when it's thick.
"The potential for other toxins is there too."
Weekly water tests taken by the provincial government onshore have also found microcystin-LR within recreational water quality guidelines at various beaches on the east side of Lake Winnipeg and at Killarney Lake beach, in southwestern Manitoba.
Dale and Deanna Muir are renting a cottage at Grand Beach, and were shocked to hear some algae is toxic.
"We took out daughter, Leah, out into the water," Deanna said. "You can't stop kids from putting water in their mouths, they put everything in there."
The Muirs are visiting from Vancouver and had heard about the algae on the news, but didn't know it would be so nasty.
Camilla Van Houte has been visiting beaches around Winnipeg all summer, and said this is the worst she's seen in years. "When it's the thick green algae I won't swim," she said. "I'll just dip my toes in."
Lake Winnipeg's blue-green algae blooms—caused by excessive nutrients entering the lake from fertilizer, human sewage and livestock manure—have been an annual problem in the north basin of Lake Winnipeg, north of Hecla/Grindstone Provincial Park, but don't appear this large every year in the south basin.
The last time algae was seen to this extent in the south basin was 2008, but last year smaller localized blooms were reported.
This year's kilometres-long bloom started to form in the south basin last month and has grown to stretch from Victoria Beach to the south end of the lake. It has soiled various beaches on the east side of Lake Winnipeg and forced the province to post warning signs. The signs have been put up at Victoria Beach and the beach's Red Cross dock, Lester Beach, West and East Grand Beach, Sunset Beach and Hillside Beach.
Toxins that can be released by the algae are the biggest concern.
Vicki Burns, co-ordinator of the Lake Winnipeg Watershed Initiative, said she doesn't want people to overreact but, "they should be careful."
"There are significant health risks and that is why government posts the beaches."
Burns said she has spoken to U.S. officials, who have lakes that also experience blue-green algae, and she said "they take it more seriously. "They tell people not to walk on the beach and don't breath in spores. I have a feeling we will see more public health warnings in future."
The first time levels of the algae toxin microcystin were known to be unsafe for swimming in Lake Winnipeg was in August 2003.
Greg McCullough, a University of Manitoba researcher who studies satellite photos of the algae growth on the lake, said the vast majority of toxin victims are cattle and dogs.
"It's pretty rare for humans to die because you don't usually drink water that looks like that," McCullough said. "It is a poison… it's definitely something to be concerned about."
Brenda Ostafsichuk and her boyfriend never let their dog near the water. "My boyfriend is very insistent Kiya doesn't go in the water, it's too dangerous."
An investigation by a Wisconsin coroner concluded in 2003 that a 17-year-old who died two days after swallowing water from a scum-covered pond was the first in the U.S. to die from exposure to blue-green algae toxin.
Scientist Al Kristofferson, the Lake Winnipeg Research Consortium's managing director, said while humans and animals shouldn't drink the water, eating fish from the lake is OK. "We've sent fish to Health Canada to study and they have found it does not get into their flesh."
Blue-green algae:
Blooms can produce toxins that harm the liver and nervous system if the water is ingested. The blooms can also cause upset stomach, diarrhea and skin irritation. The most common toxins are microcystin-LR and anatoxin-a.
If you see algae:
Don't swim in the water. Be especially careful not to let young children in the water, since it's tough to stop them from swallowing it and they're more susceptible to the toxins. Don't drink the water from the lake and don't pipe in water from the lake into your cottage or trailer water systems—not even boiling or chlorination can make it safe to drink. Stop pets and livestock from drinking water at the shoreline.
Republished from the Winnipeg Free Press print edition August 11, 2010 A3