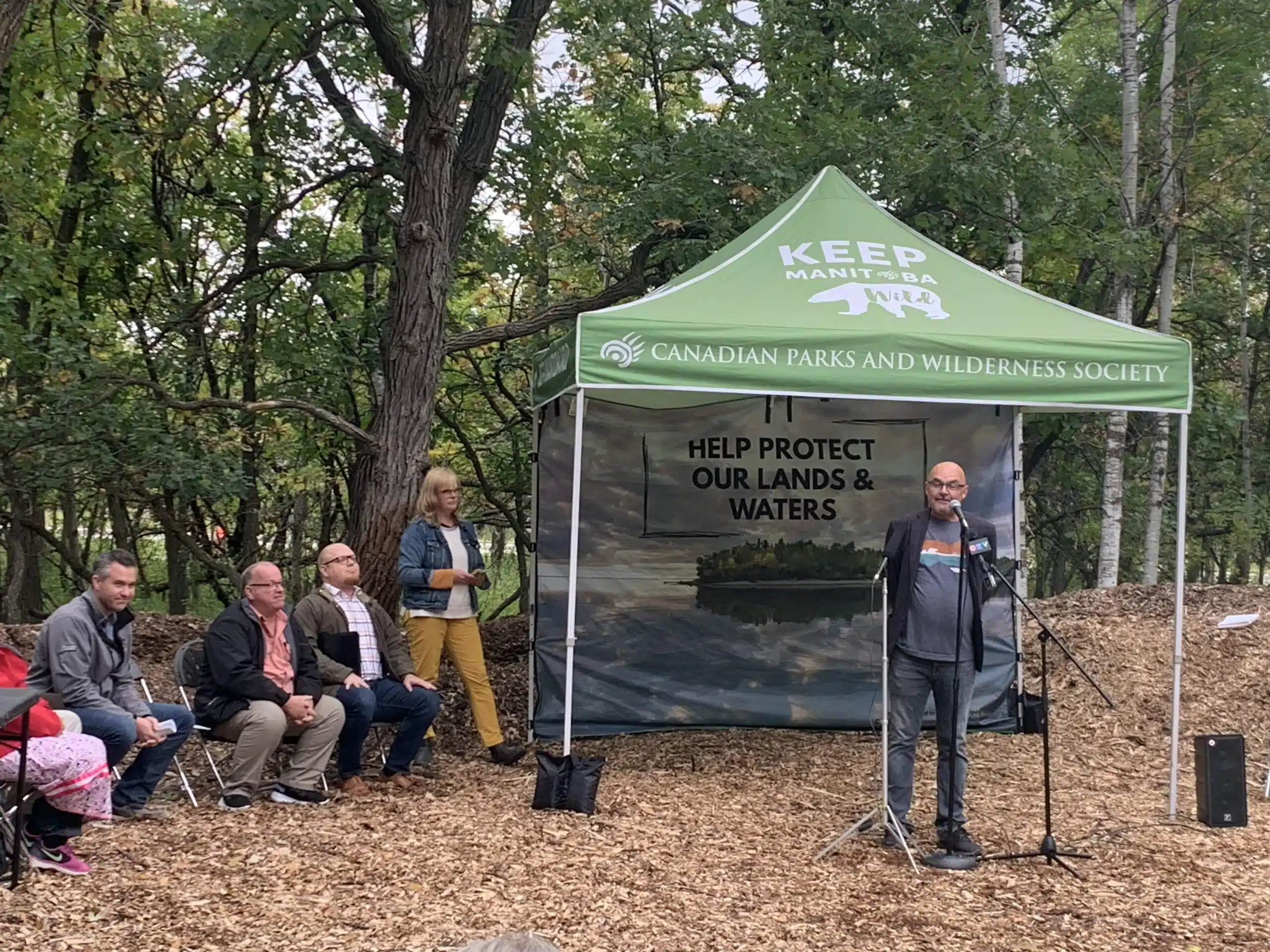 By Mira Oberman, Director of Communications and Public Programs
More than a dozen mayoral and city council candidates, Indigenous community leaders, and the president of the Canadian Mennonite University joined CPAWS Manitoba at a press conference to discuss protecting Assiniboine Forest as a national urban park.
Assiniboine Forest is one of the largest urban natural spaces in North America with 288 hectares of aspen and oak forest, restored tall-grass prairie, and wetlands. It is home to white-tailed deer, coyote, songbirds, nesting waterfowl, and 256 species of plants.
"This is something we're blessed to have in the city," CPAWS Manitoba Executive Director Ron Thiessen told reporters on Saturday, September 24, 2022.
"It's an accessible space. If you can get in your car, get on a bus, get on a bike, or walk you can get here in a reasonably short amount of time. It's a real luxury to have this and it's very important for our mental and physical well-being."
Yet a 2/3 vote of city council is all it would take to open up the forest to development.
"Our concern with Assiniboine Forest is that it's unprotected from unnatural developments," Thiessen said.
"One only need to look at Gatineau Park outside of Ottawa, where it's been chipped away at for years with housing developments, shopping centres and roads."
– We Need to Up Our Game –
The good news is that the city entered into an agreement with the federal government in 2021 to establish a National Urban Park. That could bring federal funds to maintain and improve Assiniboine Forest. The location has not yet been determined.
Federal funds could also be used to expand Assiniboine Forest by purchasing neighbouring undeveloped land, including a green corridor that links the forest to FortWhyte Alive, Thiessen said.
Winnipeg is currently below average compared to other Canadian cities at six per cent park space whereas the average in Canada is nine per cent.
"We certainly need to up our game in order for us to thrive as a city," Thiessen told reporters.
"So we're hoping the new national urban park that is Assiniboine Forest could also capture those lands along the Trans Canada Trail that leads to FortWhyte Alive," Thiessen added. "It's a great opportunity to expand our green space."
Read press coverage by:
Kyle Mason, an Indigenous community leader who is among the founders of the Kapabamayak Achaak Healing Forest in St. John's Park, offered his support for protecting a "beautiful space" that he enjoys exploring with his young son.
"I am absolutely and enthusiastically in support of having this space become a national park. Having protected spaces to offer generation after generation is absolutely vital," Mason told reporters.
"I really do hope the next council and the next mayor really makes it a priority and doesn't just pay lip service to the idea but actually puts it into their agendas, in their platforms."
Canadian Mennonite University President Cheryl Pauls spoke about how much the forest contributes to her students, and to the community at large.
"You'll find students finding health and wellness friendship, as well as many others in this community and people who come far distances to be able to walk and bike in this park," Pauls told reporters.
"As incredibly fortunate neighbours, CMU strongly endorses this," Pauls added. "We look forward to this ongoing momentum of so many partners coming together to protect this and to create greater reconciliation with all creatures and greater health for all."
Elder Barb Nepinak opened the meeting with a blessing. Some 135 people registered for a group hike which followed the press conference.
CPAWS is urging Winnipeggers to contact all 11 mayoral candidates to encourage them to protect Assiniboine Forest as a national urban park. You can take action here.
All candidates for mayor and the two closest wards were invited to participate in the press conference.
The following candidates spoke at the press conference. Their statements can be viewed on our Vimeo page.
Mayoral Candidates
Idris Adelakun
Rana Bokhari
Chris Clacio
Jenny Motkaluk
Shaun Loney
Robert Falcon Ouellette
Rick Shone
City Council Candidates for Charleswood-Tuxedo-Westwood:
Evan Duncan
Brad Gross
Gordon Penner
City Council Candidate for River Heights-Fort Garry: