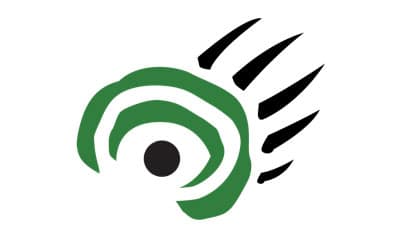 Local environmental activists protested in south Winnipeg on Wednesday afternoon to demand the federal government take swift action on climate change.
About 20 people picketed outside Winnipeg South MP Rod Bruinooge's office to push the Harper government to commit to serious emission reductions at the Copenhagen climate change summit. Some carried signs depicting the Canadian flag dripping in black oil, while other signs urged the government to set responsible emission targets at Copenhagen.
One man played the national anthem on a trombone next to a sign that read "Oil Canada."
"This is a crucial time in our history when we can take action to get the Conservative government to commit to significant actions on climate change," said Sean Goertzen, coordinator for University of Manitoba's Campus Greens.
Goertzen said Winnipeggers want to see the Harper government commit to reduce greenhouse gas emissions by 20 to 30 per cent from 1990 levels by 2020. He and other activists said they feel Canada's international reputation has been tarnished by its weak support of large emission reductions, and for defending the intersets of the oil industry.
Prime Minister Stephen Harper is heading to Copenhagen where hopes for a deal to replace the Kyoto Protocol are fading. Canada has been criticized for not doing enough to help reach a deal.
"They have a one-man party and its name is Oilberta," said Alon Weinberg, one of the event organizers. While the group of local activists shouted chants amid frigid temperatures, about 20 activists protested in Harper's Calgary constituency office. The group said Harper should resign as prime minister if he won't change his position on emissions that affect global warming.
The sit-in at Harper's office is the eighth to target Tory cabinet ministers in an attempt to raise awareness about climate change.
No one was inside Bruinooge's office at the time of the Winnipeg picket, but three members of the U of M's Campus Conservatives stood by the door in support of the Harper government.
The three university students were heckled by environmental activists, as they voiced their support for the government's slow approach to tackling climate change.
Kyle Mirecki said he believes the federal government is taking precautions to protect the environment while being cautious that doing so doesn't hurt the economic recovery plan.
—With files from Canadian Press
Republished from the Winnipeg Free Press print edition December 17, 2009 A10