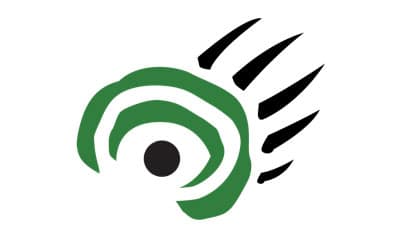 It isn't part of his regular migration route, but Caribouman made a stop in Winnipeg to promote an important message yesterday.

The 7-foot-tall mascot visited Mountain Equipment Co-op and The Forks to educate people about the need to protect Canada's boreal forests and the woodland caribou that inhabit them.
"At CPAWS, we realized that in order to capture the public's attention … we needed to provide a way to capture people's imaginations," said Ron Thiessen, executive director of the Canadian Parks and Wilderness Society's Manitoba chapter, explaining the origin of Caribouman.
The goal of the organization is to send 10,000 signed postcards to the federal government, pressuring it to meet its obligations under the Species at Risk Act, which include mapping and identifying critical habitat areas, like that of the caribou.
"It's very exciting, because as people become aware of the importance of the boreal forest, they are quite quick to take action," said Thiessen.
He pointed out that 50% of Manitoba is covered by boreal forest, which is sometimes referred to as the northern lungs of the planet.
Ken Berg portrayed Caribouman, donning the costume, complete with antlers. He said he was getting a good response yesterday afternoon.
"It's been really overwhelming. I thought it would just be the kids, but it's older people too," he said of people stopping to talk to him.
Avrid Dalzell of Baldur, was visiting The Forks with his family yesterday afternoon when the Caribouman concept caught his eye.
"I think it's an excellent idea," he said. "All wildlife is endangered in some form."