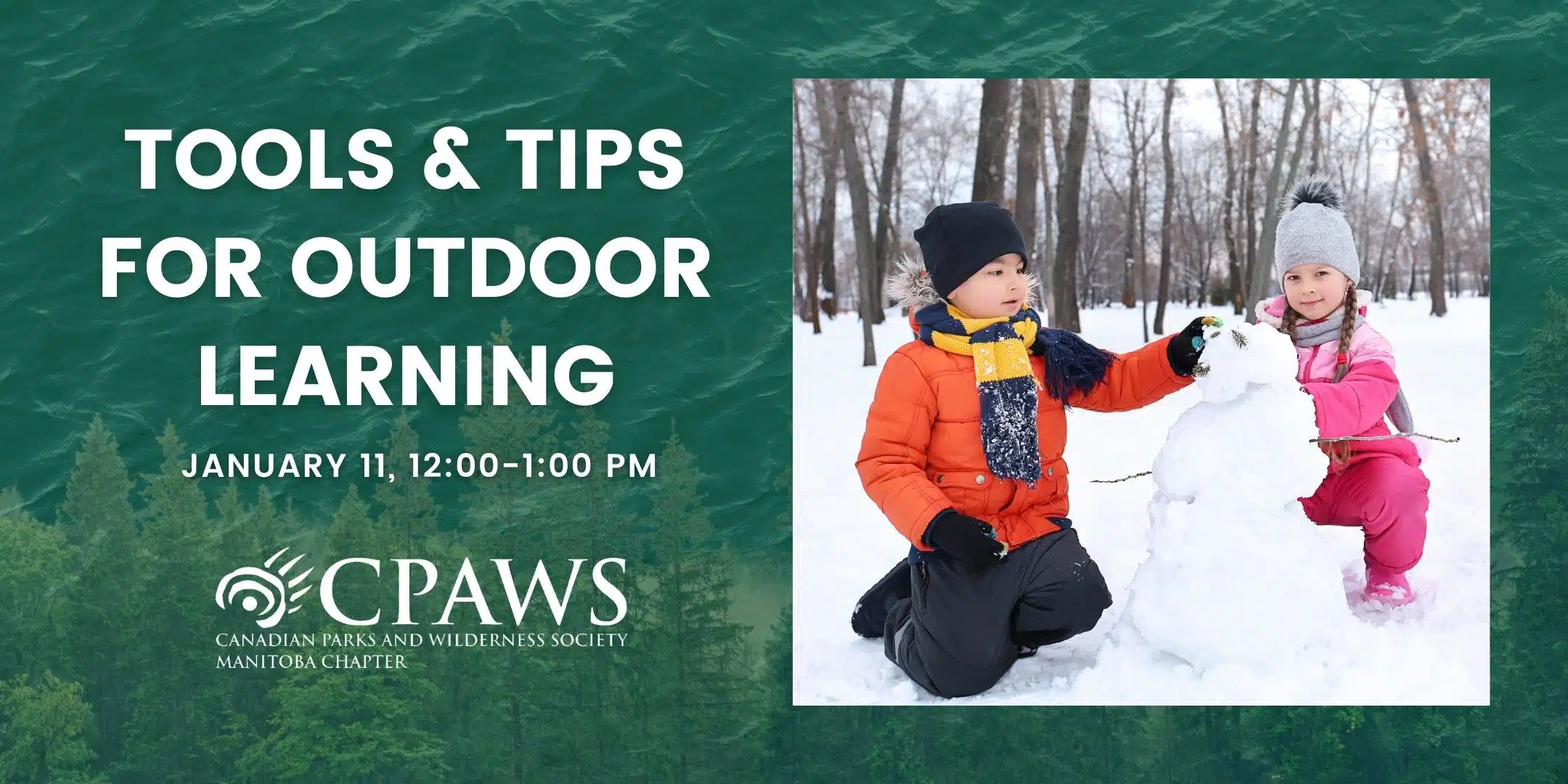 Outdoor Learning: Tools and Tips for Winter Adventures
Are you looking to spend more time outside this winter with your family but might need a little extra motivation?
Are you an educator who wants to incorporate outdoor learning into your curriculum and needs some fresh ideas?
Would you like the chance to win a gift card to the Outdoor Learning Store just for participating?
Join us for a CPAWS Manitoba webinar with Jade Harvey-Berrill of the Outdoor Learning Store for a hands-on learning opportunity that will inspire and engage you to spend more time outdoors.
Jade will share tools and resources available to aid in successful outdoor learning and adventures during winter with a focus on embracing and connecting to nature.
Whether you are a teacher, informal educator, parent, recreational leader or student, this workshop will connect you to tools and resources available to enhance your time spent outdoors in the colder months – to support your academic, mental and physical well-being – and to make sure you have the most fun!
All participants who attend the webinar will have the chance to win a gift card to the online Outdoor Learning Store!
About the speaker
Jade is a Physical Geographer (BSc), Environmental Educator, Outdoor Instructor and Guide based in Revelstoke, BC.
Jade has been designing & delivering environmental education programs for over fifteen years, across four continents and seven countries. She runs Outreach and Events for the Columbia Basin Environmental Education Network (CBEEN) & the Outdoor Learning Store alongside her own educational consultancy 'Stoked on Science'. In 2022 she hosted online Pro-D workshops that reached over 10,000 educators across Canada and the US.
Helping to support educators to take their learning outside brings her the greatest joy, alongside showing people her rock collection, learning the languages of the Sinixt and Ktunaxa First Nations and the sounds of crunchy fall leaves or winter snow beneath her feet.
–The views and opinions expressed are those of the presenters and do not necessarily reflect the views, policies, or positions of CPAWS Manitoba.–
How can we help?
If you have any questions or require any additional accommodations to participate, please email us at [email protected].
About CPAWS Manitoba
CPAWS Manitoba has been instrumental in establishing 22 new parks and protected areas in our province. That's an area larger than Lake Winnipeg at nearly 26,000 square kilometres. Our goal is to protect half of Manitoba's lands and waters.
–Lunch and Learns–
Nature has been here for us during the pandemic.
CPAWS Manitoba wants to maintain this positive connection to nature by providing a space for Manitobans to connect online from the safety of our homes and be inspired by nature in our backyards and beyond.
Join CPAWS Manitoba for weekly lunch and learn presentations from experts across the province who will share their knowledge and passion and bring new nature-inspired activities into our lives.
*** This program is possible thanks to the generous support of The Winnipeg Foundation***