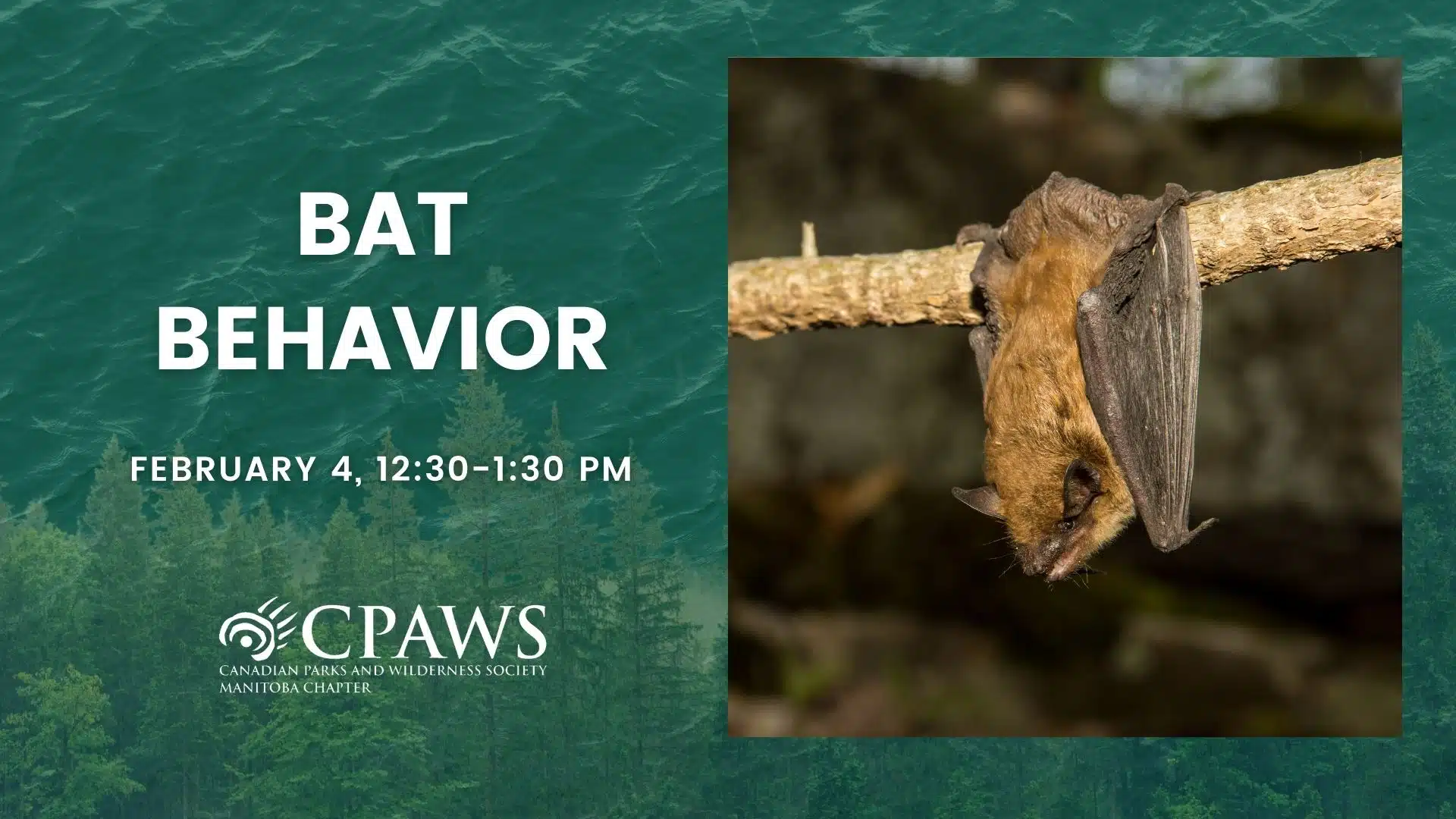 Bat Behaviour: North American Bats and White-Nose Syndrome
In 2006, a microscopic fungus arrived in North America causing white-nose syndrome, a devastating fungal disease in bats, and one of the most drastic declines ever observed in an animal group.
Since then, white-nose syndrome has killed tens of millions of bats. Mortality rates reached 100 per cent in some caves. And three species are now listed as endangered in Canada, including the little brown bat, previously the most abundant and widespread bat species in North America.
Join us for a CPAWS Manitoba webinar with Dr. Craig Willis, Professor of Biology at the University of Winnipeg, whose bat lab has been studying white-nose syndrome for more than 15 years. He will discuss the dangers of white-nose syndrome to Manitoba's bats, the research being done to identify, protect, and improve critical bat habitats, and how you can get involved in monitoring bat populations in Manitoba.
About the Speaker
Dr. Craig Willis is a Professor of Biology at the University of Winnipeg who has been studying the behaviour, ecology, and physiology of bats for over 20 years. His research on bats and white-nose syndrome has been covered by a range of national and international media including CBC's 'The Current' and 'Quirks and Quarks', CTV National News, the Guardian (UK), and the Los Angeles Times.
How Can We Help?
If you have any questions or require any additional accommodations to participate, please email us at [email protected].
About CPAWS Manitoba:
CPAWS Manitoba has been instrumental in establishing 22 new parks and protected areas in our province. That's an area larger than Lake Winnipeg at nearly 26,000 square kilometres. Our goal is to protect half of Manitoba's lands and waters.
Lunch and Learns
Nature has been here for us during the pandemic.
CPAWS Manitoba wants to maintain this positive connection to nature by providing a space for Manitobans to connect online from the safety of our homes and be inspired by nature in our backyards and beyond.
Join CPAWS Manitoba for weekly lunch and learn presentations from experts across the province who will share their knowledge and passion and bring new nature-inspired activities into our lives.
This program is possible thanks to the generous support of The Winnipeg Foundation and the Conservation Trust, a Manitoba Climate and Green Plan Initiative delivered by the Manitoba Habitat Heritage Corporation.